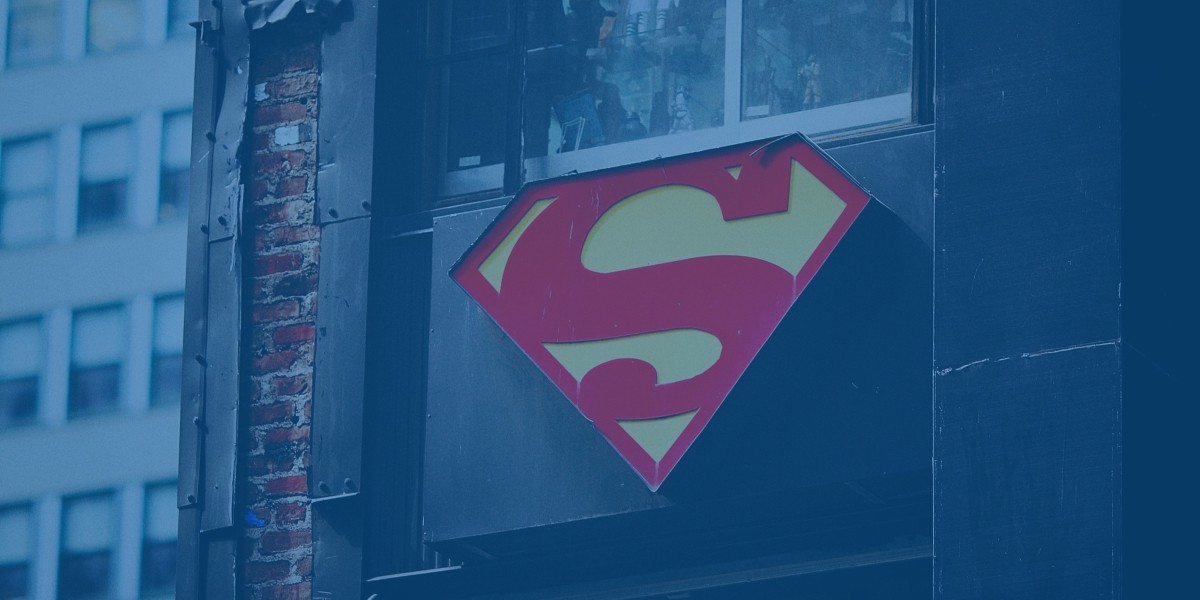 Superman is arguably the most well-known superhero out there and there's no doubt that he's a bona fide all-rounder. Possessing an incredibly diverse range of powers and the ability to save the planet under intense pressure just in the nick of time, it's no surprise that Superman came in the top 5 of a recent survey of the world's most popular superheroes (source). In this guide, we'll take a closer look at the history and creation of Superman, explore his superpowers and discuss the villains standing in his way.
The creation of Superman and the journey to comics
Superman first appeared in Action Comics in 1938. Jerry Siegel and Joe Shuster were searching for a new hero to star in a serial, which would run alongside Detective Comics, later rebranded as DC. Superman made his debut in the first issue and was the first character to be recognized as an American superhero.
Initially inspired by stories by John Henry, Siegel and Shuster conjured up the idea of a new villain called Superman. Superman as a baddie didn't last for long, and the original character was quickly replaced by a new hero with the same moniker.
The first glimpse of Superman came via the cover of Action Comics publication no.1 on April 18th 1938. The image of Superman lifting a car in the air remains one of the most recognizable comic covers of all time. Superman became a household name as comics flew off the shelves.
Superman's real identity
Superman's alter-ego is a handsome, intelligent man named Clark Joseph Kent. Clark Kent lives in Metropolis and works as a reporter for the Daily Planet. Clark Kent was born in Kansas and was adopted by a farmer and his wife. His romantic interests lie with Lois Lane, a fellow reporter at the newspaper.
Where did Superman get his powers?
Superman was born on Krypton, a different planet where higher gravity facilitates super strength. When fighting enemies on Planet Earth, Superman demonstrates capabilities way beyond those of a human being. In addition to the incredible strength he has, the color of the sun, which is red on Krypton, provides him with a range of extra powers that make him almost invincible.
Superman's Achilles heel is Kryptonite. When he is exposed to Kryptonite, a radioactive element found on his native planet, his energy is zapped and he becomes weak and vulnerable.
Superman's powers include:
Flight

Speed

Superhuman strength

X-ray vision

Heat vision

Microscopic and telescopic vision

Superhuman hearing

Energy absorption
Journey to the movies
Superman started as a comic book hero, but he has since become a veritable star of the silver screen. The first live-action appearances came in 1948 and 1950. Starring Kirk Alyn as Superman and Noel Nielle as Lois Lane, the serials were shown in movie theaters. In 1951, the first official Superman movie hit the screens. Superman and the Mole Men starred George Reeves as the eponymous character. During the 1950s, the TV series, The Adventures of Superman, which also featured George Reeves in the lead role, became hugely popular.
Superman, which was released in 1978, is widely regarded as the first official superhero movie. The film, featuring Christopher Reeve, charts the journey of Superman from the planet of Krypton to the safe, nurturing family home of the Kent's. Superman was followed by Superman II in 1980, Superman III in 1983, Superman IV in 1987 and Superman Returns in 2006. There have been several spin-off movies and TV shows, including Supergirl, Superboy, Lois and Clark: The New Adventures of Superman, and Smallville.
In 2013, Man of Steel paved the way for the DC Extended Universe series, which featured Henry Cavill as Superman. The most recent movies include Batman vs Superman: Dawn of Justice with Ben Affleck in the role of Batman, and Justice League.
The popularity of Superman: What are the highest-grossing movies and comic books?
Superman is one of the most popular superheroes out there and the character has evolved to delight comic book, TV and movie fans.
A limited edition of volume #1 of Action Comics, which featured Superman making his debut in 1938, recently sold for a staggering sum of $3.25 million, making it the world's most valuable comic book. Statistics show that Superman is the best-selling comic series in history, with over 600 million copies sold globally (source).
The highest-grossing Superman movie is the 2016 title 'Batman vs Superman: Dawn Of Justice,' which took $872,395,091 (source).
Superman villains
Superman wouldn't be the hero he is without the magnificent roles played by his arch-rivals. The primary villain in the Superman saga is Lex Luthor, a character driven by greed and a thirst for power. Lex Luthor has tried to take over the world and is in constant battle with Superman, the force for good. Lex doesn't have any notable superpowers, but he is hyper-intelligent and he has a ruthless streak, which makes him a frustrating, formidable, and at times, indomitable opponent.
Other villains that appear in the comics, TV series and movies include:
Brainiac

General Zod

Bizarro

Darkseid

Domesday

Toyman

Ultraman

Superman Art
Superman was created by writer Jerry Siegel and artist and illustrator, Joe Shuster. Superman covers and comic strips quickly became synonymous with bright colors, fast-paced action sequences and attention to detail. There is a lot of debate surrounding the most iconic Superman covers of all time, but here are some fan favorites:
Action Comics #1 (Superman's first appearance)

Superman #1

Superman #199 (Who is the fastest man alive?)

The Man of Steel #1

Superman versus Muhammad Ali
Summary
Superman is arguably the most well-known superhero. Famed for his ability to fight villains and be a force for good in the world, this comic book hero has dazzled audiences and readers for almost 100 years.