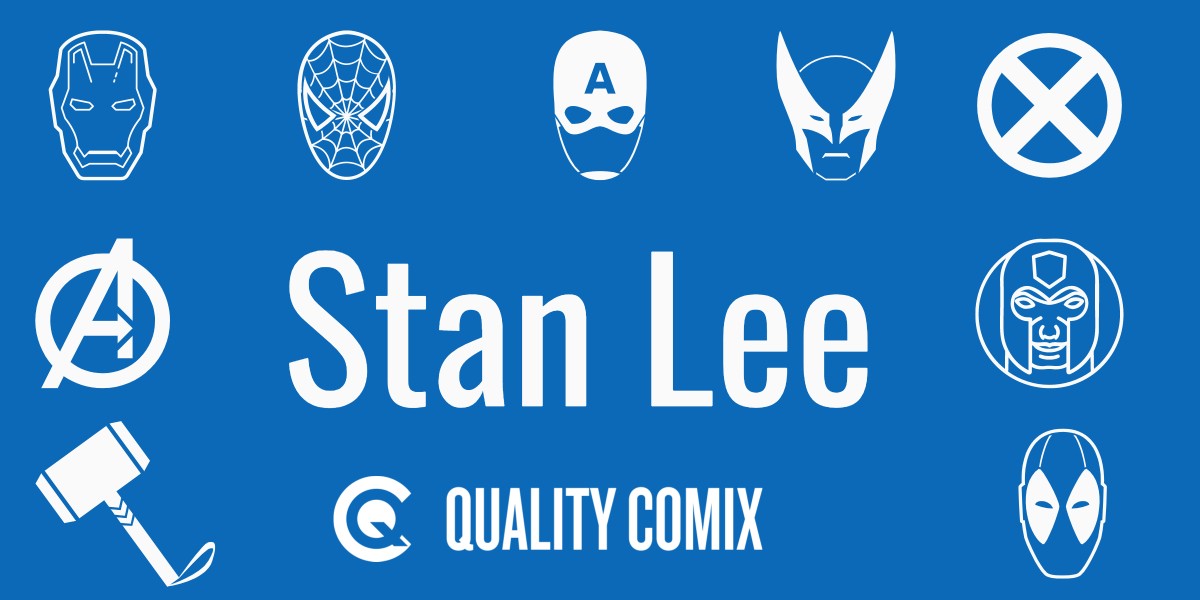 I am sure you will agree.

Stan Lee is a legend that deserves every recognition he receives.

But, just how much do you know about Stan Lee?
Well, in this article, we have sifted through the data, read his book and have gone through Marvel history to bring you the ultimate collection of Stan Lee facts, quotes and statistics.
By the end, you will know a great deal more about Stan Lee, his life, his views and his uncanny achievements.
Ready.
Let's dive in.
Stan Lee. The Myth, The Legend, The Man
Stan Lee was born Stanley Martin Lieber on Dec. 28, 1922, in New York City.
In fiction, Lee appears as a superhero historian in Lavie Tidhar's sci-fi novel The Violent Century.
"Wherever we find news, excitement, mystery and adventure, there, too, we find the newspaper reporter. Always on the alert for something new, ready to risk his very life for a scoop and finding adventure in every corner of the globe."
Growing up, his father struggled to find stable employment, leading to financial hardship for the family. This led Lee to develop a strong work ethic.
"My biggest regret is that I don't really have time to read."
Initially, he used the name Stan Lee because he thought working in comics would be a fleeting thing, and one day he will write a novel using his real name:

"I realized that people had no respect for comic books at all. Most parents didn't want their children to read comics. And I was a little embarrassed to be doing the work I did, and I figured someday I'll write the Great American Novel, and I don't want to ruin my possibilities by having my name disliked this way. And I became Stan Lee."
Lee published Romeo and Juliet: The War in 2012. It is based on the Shakespearean play and re-imagines the couple as superhuman soldiers.
As a child, Lee was greatly influenced by Errol Flynn's action films. "When I was a kid, Robin Hood was my hero," Lee said in 2013.
"The power of prayer is still the greatest ever known in this endless eternal universe."
The Stan Lee Media venture was a loss for Stan Lee in 1998. His business associate was incarcerated for stock fraud charges.
"Superheroes in New York, give me a break!"
He was raised in a Jewish family.
"America is made of different races and different religions, but we're all co-travellers on the spaceship Earth and must respect and help each other along the way."
"While no one is expected to leap tall buildings in a single bound, our aspiring heroes will be tested on their courage, integrity, self-sacrifice, compassion and resourcefulness–the stuff of all true superheroes."

Stan Lee actually developed a method of writing where he would stand up to write. He would also position himself so he gained more sunlight. This was because he was convinced that sitting down all day would give him a potbelly.
Tony Stark, better known as Iron Man, was modelled after Howard Hughes, the late American industrialist.
"I never understood why people take drugs. They're habit-forming and they can kill you. I didn't need anything to pep me up or make me feel more creative, and I didn't need them to help me with women."
As a result of Lee's 2005 lawsuit, Marvel agreed to pay him $10 million in settlement over no royalties he received for the 2002 Spider-Man movie.
Stan Lee wanted Thor to have a reason why he could fly. Unlike Superman who had no visible style of propulsion. That's why Thor swings his hammer. Thor doesn't fly, he just hitches a ride on his hammer.
The Stan Lee God Woke graphic novel was released in 2016. The story is based on a poem first presented by Lee in 1972.
His mother, Celia Lieber, encouraged his love of reading and creativity.
During the year 2018, the court granted Lee a temporary restraining order against a memorabilia collector who claimed to be his caregiver.
"Being a geek has become a badge of honor."
Lee is often credited as an executive producer for Marvel-based television and film projects. The first such credit was for the direct-to-video Captain America film in 1990.
"Coming from your friendly neighbourhood Spider-Man!"
Stan Lee has probably given a lecture at every University and College in the US. He spent a decade promoting Marvel where he would give a lecture a week.

Stan Lee felt that Reed Richards is the comic book character that resembles him the most.
Lee left Marvel in 1971 to pursue film and television opportunities in California.
"And now, until we meet again, may the blessings of Asgard be showered upon you!"

"Singing a song, playing sports–anything that entertains, that takes people away from their own problems, is good."
"I never thought that Spider-Man would become the worldwide icon that he is. I just hoped the books would sell and I'd keep my job."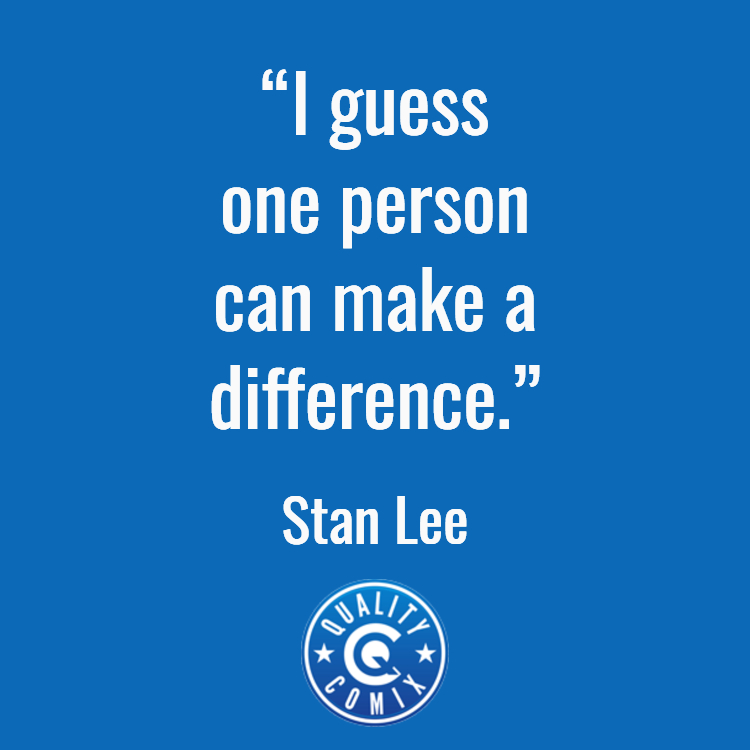 "I guess one person can make a difference."
"I have never had a lap dance in Tampa or any other part of Florida. If I ever did have a lap dance, I don't think I would be discussing television ideas with the girl that was giving it to me."
Stan Lee got married to British model and voice actress, Joan Boocock, on December 5, 1947. The couple moved to Woodmere, Long Island, where they bought a house in 1949. The following year, their first child, a girl named Joan Celia Lee, was born. Later, in 1953, Joan gave birth to their second daughter named Jan Lee. However, Jan died just 3 days after she was born.
"I think people have always loved things that are bigger than life, things that are imaginative."
Lee and Kirby co-designed the Fantastic Four comic book team in 1961. Their books followed a real-world bent, in contrast to most of Lee's competitors' books of the time.

In 2006, Marvel marked Lee's 75 years with the company with a Stan Lee Meets, a series of comic books that featured a fictionalized Lee interacting with his co-created characters Spider-Man, Doctor Strange and Doctor Doom.
"I like all the comics conventions: The smaller ones are easier, the bigger ones are exciting…Each one I say: Never again. But they're all great…These things are important because they keep the fans' interest alive in comics. They keep the fans reading and their imaginations stimulated."
"I've been the luckiest man in the world because I've had friends, and to have the right friends is everything: people you can depend on, people who tell you the truth if you ask something."
In the 1950s, Lee came close to leaving the comic book industry forever after a dispute with his publisher about the dialogue he was using. "He didn't want too much dialogue; he didn't want me to worry about characterization or story — all he wanted was a lot of action," he would tell website Comic Book Resources (CBR) in 2017.
He made his theatrical film debut as a Marvel Comics editor in the comedy-horror film, The Ambulance, in 1990.
"Comic books sort of follow with the movie–if people see the movie and if they're interested in the character and want to see more of the character, they start buying the comic books. So a good movie helps the sale of the comic books and the comic books help the movie and one hand washes the other. So, I don't think there's any reason to think that comics will die out."

"Every day is a new adventure."
Lee's wife, Joanie, died from a stroke in July of 2017.
Lee wrote many Marvel titles as a sole writer. He would use a scripting format called Marvel Method, where he would quickly discuss the story with the artist, who would then develop artwork to strengthen the narrative. Lee would later add dialogue to the drawn pages.
"Technology isn't a villain. Technology should help, but if you just use the technology for the sake of technology, then you're cheating your audience. You're not giving them the best story and the best direction and so forth."

"When you can sit down with a plain sheet of paper in front of you and make some notes, and, little by little, you see it take shape and become a concept for a movie or a TV show. That's a real thrill. You watch it go from notes on a paper to a meeting with writers and directors and actors. I can't think of anything that's more exciting."

"Another definition of a hero is someone who is concerned about other people's well-being and will go out of his or her way to help them–even if there is no chance of a reward. That person who helps others simply because it should or must be done, and because it is the right thing to do, is indeed without a doubt, a real superhero."

"I'll probably be the next Donald Trump. Instead of saying, 'You're fired,' I'll have to come up with another line. Maybe, 'Take off your costume!' I'll be the ultimate judge. It's a great responsibility, and I take it very seriously. It's a great weight on my shoulders, and I just hope that I will be up to this test. Because the eyes of the world will be upon us."
As a young man, Lee is described as "agonizingly sensitive, desperate for approval and easily influenced by others."

The Spider-Man and His Amazing Friends episode featuring Seven Little Superheroes was narrated by Lee in the 1980s.

"Wolverine is one of the best characters ever created in fiction. I blew it by not coming up with the idea first."
"If Shakespeare and Michelangelo were alive today, and if they decided to collaborate on a comic, Shakespeare would write the script and Michelangelo would draw it. How could anybody say that this wouldn't be as worthwhile an art form as anything on earth?"

"To tell you the truth, I never thought of myself as much of a success."

Stan Lee's 1962 debut of Spider-Man in Amazing Fantasy #15 became a bestseller and was the fastest-selling book of the decade. After this early success, Lee and Ditko would work on an ongoing Spider-Man series. The Amazing Spider-Man launched in 1963.
As Lee graduated from high school at 16, he decided not to go to college and much rather find employment than go to college. Fear of unemployment prompted Lee to value his being able to find employment and earn a living.
"Fans are almost always nice. I really find that they rarely come on too strong."
Lee is referred to in Michael Chabon's 2000 novel The Amazing Adventures of Kavalier and Clay. Chabon cites Lee as one of the many comic book creators he's been influenced by in an author's note in the book.
Lee earned money working several part-time odd jobs — including delivering sandwiches to offices in Rockefeller Center, selling newspaper subscriptions for the New York Herald Tribune, working as an office boy for a trouser manufacturer and being an usher for Broadway's Rivoli Theater.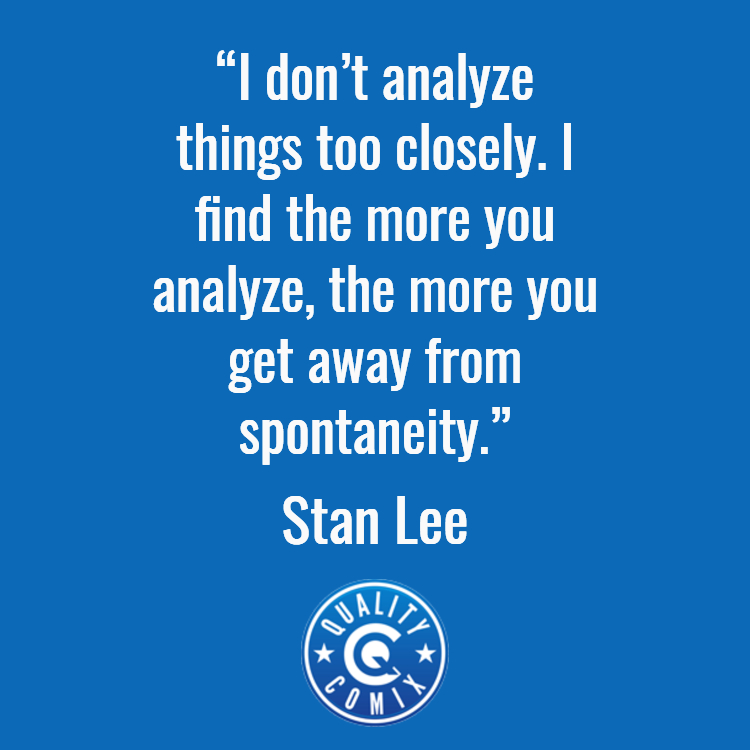 "I don't analyze things too closely. I find the more you analyze, the more you get away from spontaneity."
Simon and Kirby allowed Lieber to write a story, under the pen name Stan Lee, for Captain America Comics #3 in 1941.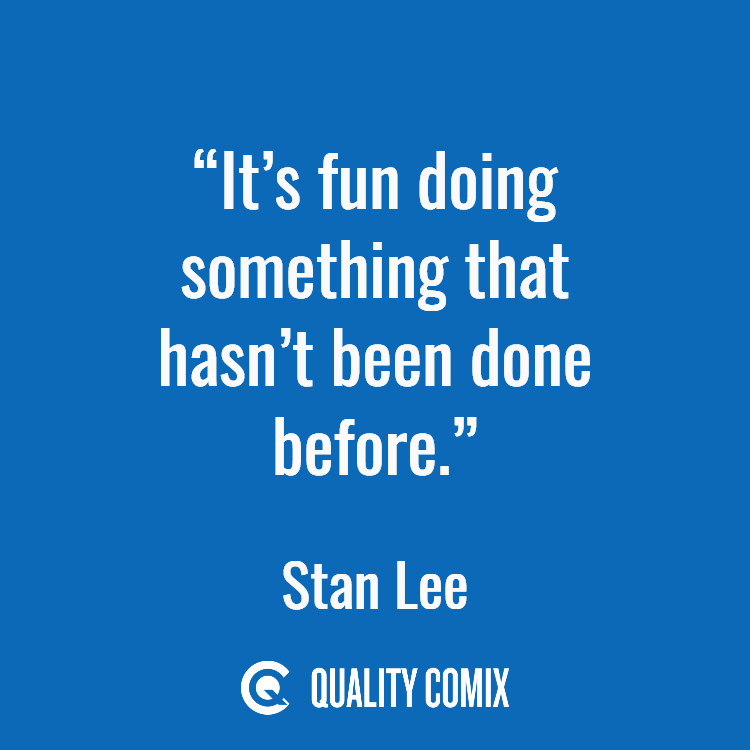 "It's fun doing something that hasn't been done before."
In 2018, he sued POW! Entertainment for fraud seeking $1 billion in damages. However, he dropped the charges a few months later.

"Reading is very good."
In 1987, Stan Lee "officiated" the New York City wedding ceremony of Spider-Man and his love Mary Jane at Shea Stadium, featuring actors playing the roles in a publicity stunt.
As he got older, Lee's eyesight deteriorated to the point where he had difficulty reading comic books, something that he greatly missed doing, he told RadioTimes in 2016.
Lee made a cameo in the 1995 Kevin Smith film Mallrats, playing himself.
"Achilles, without his heel, you wouldn't even know his name today."
Growing up, Lee was raised by his mother Celia and father Jack in Manhattan, both of whom were immigrants from Romania.
Lee created POW! (Purveyors of Wonder) Entertainment in 2001. The company's mandate was to develop film and television properties based on original superheroes. It was bought by a Chinese firm in 2017.
"There's never a time when I'm not working. I don't take vacations."

"Just because you have superpowers, that doesn't mean your love life would be perfect. I don't think superpowers automatically means there won't be any personality problems, family problems or even money problems. I just tried to write characters who are human beings who also have superpowers."
In 2010, Stan Lee's Superhumans premiered. Hosted by Lee, the show featured a search for real people who have special abilities.
"I'm very proud of being a hack. It's why I've lived as long as I have, I think."
With the help of an uncle, Martin Goodman, Lee would become an office assistant at Timely Comics in 1939. There, he worked for comics legends Joe Simon and Jack Kirby, the creators of Captain America.
"To my way of thinking, whether it's a superhero movie or a romance or a comedy or whatever, the most important thing is you've got to care about the characters. You've got to understand the characters, and you've got to be interested. If the characters are interesting, you're halfway home."

"If I'm half as good as everybody said I am, I'm far too good to be wasting time with ordinary people. But I seem to be spending my life with ordinary people, who are the best people in the world."
In November 2018, Stan Lee's net worth was estimated to be $50 million.
"All I thought about when I wrote my stories was, 'I hope that these comic books would sell so I can keep my job and continue to pay the rent.' Never in a million years could I have imagined that it would turn into what it has evolved into nowadays"
Lee lent his voice as the narrator for the 1980s animated series Incredible Hulk. He would end his narration with "This is Stan Lee saying, Excelsior!"
" The only advice anybody can give is if you want to be a writer, keep writing. And read all you can, read everything."
In April 2014, he appeared in a commercial for the U.S. Postal Service which tied in with the release of The Amazing Spider-Man 2 (2014). In the commercial, Stan portrayed a theatre projectionist who receives a reel of film from the Spider-Man.
Being inducted as Hall of Famer twice, once in 1994 at the Will Eisner Award Hall of Fame and again in 1995 at the Jack Kirby Hall of Fame
"I see myself in everything I write. All the good guys are me."

"For men must never feel a cause is hopeless–men must never feel an enemy cannot be beaten!"
"It's got to come from inside of you."

One of Stan Lee's life long regrets was that he was too casual about money.
Lee would be recognized for his comic book contributions in 2008 with a National Medal of Arts.
In 1994, Lee was formally inducted into the Will Eisner Award Hall of Fame. He would be inducted into the Jack Kirby Hall of Fame in 1995.
Lee was a student at DeWitt Clinton High School in the Bronx.
A Game of Thrones author George R.R. Martin cites Lee as a huge literary influence. His first published work was in Fantastic Four #20, a letter of praise for Fantastic Four #17.
Lee underwent an operation to insert a pacemaker in 2012. He was forced to cancel planned appearances at conventions.
Spider-Man was created by Stan Lee and Steve Ditko. (Marvel)
"I like Spider-Man because he's become the most famous. He's the one who's most like me–nothing ever turns out 100 percent OK; he's got a lot of problems, and he does things wrong, and I can relate to that."

"With great power comes great responsibility."

The Fantastic Four was hugely successful and proved that audiences enjoyed reading more realistic adventures. "It became fun when I was able to do the kind of stories I wanted instead of the kind of stories my publisher wanted me to do," Lee told Comic Book Resources in 2017.
For three months in the 1970s, Lee attempted to ban exclamation marks in Marvel Comics, deeming them childish. The ban ended after writers ignored the edict.
"My theory about why people like superheroes is that when we were kids, we all loved to read fairy tales. Fairy tales are all about things bigger than life: giants, witches, trolls, dinosaurs and dragons and all sorts of imaginative things. Then you get a little bit older and you stop reading fairy tales, but you don't ever outgrow your love of them."

Lee felt invulnerable, God-like characters such as Superman were boring. Lee wanted comic books to feel real and flawed and have human emotions, including anger, pride and melancholy. This idea was considered revolutionary at the time.
"There must always be those with the fire of rebellion in their blood! There must always be those who will dare to fight an unbeatable enemy! Only thus can the race of man remain strong and fearless!"
"Luck's a revolving door, you just need to know when it's your time to walk through."
In 2016, Lee announced his last trip to Canada in 2016 at Fan Expo Canada would be his last, citing his age. "Well, I can't run the marathon and win the way I used to…. But I'm 93 years old. I don't know how much longer I'll be able to do it. I want to make t
Lee created The X-Men series with Kirby in 1963. The team of fictional superheroes — known as mutants — explores the alienated feelings that many teens experienced growing up, while also providing a father figure type with Professor Xavier.

On television, he made his TV show debut in 1982, playing the narrator in The Incredible Hulk.
"If you are interested in what you do, that keeps you going."

"I love Marvel and the people there. I'm glad I'm still part of it."

"You have to be appreciative."
At age 19, he became an interim editor at Timely Comics, and then became the comic book division's editor-in-chief. Timely Comics evolved into Marvel Comics in the 1960s.
Growing up after the First World War and during the early part of the Great Depression, Lee has memories of his parents fighting over their struggles to get by.
"We all wish we had superpowers. We all wish we could do more than we can do."


"When you work with people whom you like and you admire because they're so good at what they do, it doesn't feel like work. It's like you're playing."
In 2003, Lee worked with Spike TV to create Stripperella, an adult animated comedy series starring Canadian actress Pamela Anderson as the voice of the lead character.
In 2012, he was a part of The Avengers (2012) themed commercial for Dr. Pepper.
Lee unveiled the YouTube channel Stan Lee's World of Heroes in 2012.
Lee has one younger brother, comic book artist and writer Larry Lieber. Larry is also a co-creator of the Marvel Comics superheroes Iron Man, Thor, Ant-Man and was an artist for the Amazing Spider-Man syndicated newspaper strip.
Lee's favourite books as a child were titles by authors like Mark Twain, Sir Arthur Conan Doyle, Jules Verne and H.G. Wells.
"I had been writing comic books for years, and I was doing them to please a publisher, who felt that comics are only read by very young children or stupid adults. And therefore, we have to keep the stories very simplistic. And that was the thing I hated."
He became Marvel's publisher and editorial director in 1972.
In the 1990s, Lee was the host of The Comic Book Greats, a documentary series featuring interviews with notable comic book creators.

"Let's lay it right on the line. Bigotry and racism are among the deadliest social ills plaguing the world today. But, unlike a team of costumed super-villains, they can't be halted with a punch in the snoot or a zap from a ray gun. The only way to destroy them is to expose them—to reveal them for the insidious evils they really are."
Lee became a film screenwriter when he worked with documentary filmmaker Alain Resnais, whose films included Nuit et Brouillard about Nazi concentration camps. The pair worked on two films between 1968 and 1971 — The Inmates and Monster Maker.
"I wanted them to be diverse. The whole underlying principle of the X-Men was to try to be an anti-bigotry story to show there's good in every person."
"Comic books to me are fairy tales for grown-ups."
"Nevermore shall men make slaves of others! Not in Asgard–not on Earth–not any place where the hammer of Thor can be swung–or where men of good faith hold freedom dear!"
The Stan Lee Foundation was created by Lee in 2010 to promote access to literary education and the arts.
In 2011, Lee announced a multimedia imprint specifically for children called Stan Lee's Kids Universe.
Lee signed a lifetime deal with Marvel Enterprises in 1998. The contract stipulated that Lee devote 10 per cent of his time to the company.
Black Panther was created by Stan Lee and Jack Kirby.
An error in printing made Hulk appear green instead of grey.

While he was a teen, he dreamed of becoming a famous novelist.
"So I'm happiest when I'm working with artists and writers, and involved in stories, whether we're talking about animation or movies or comics or television."
"The world has always been a comic book world to me."
"The thing to me that's fun is trying to make the characters seem believable, or realistic. And it's especially challenging when you're doing fantasy stories, when you're doing superhero types of things."
"I don't have inspiration. I only have ideas. Ideas and deadlines."
"I like Silver Surfer because he's the most philosophical, always philosophizing about the human race and the human condition and why people are the way they are, why they don't appreciate this wonderful planet they live on…he has a nice moral tone."
"Comic books would probably be the last thing on the list of what we'll do at this point. But wherever a comic book is warranted, we're more than capable of doing them."
In 1963, Stan Lee and Jack Kirby appeared as themselves in an issue of the Fantastic Four.
As a voice actor, Stan Lee made his theatrical film debut by voicing the Récitant /New York's Narrator in the French comedy film, The Year 01, in 1971.
"I said, 'Juvenile delinquents eat chocolate cake, so chocolate cake must cause juvenile delinquency,' but nobody listened to me. I wasn't on TV."
In 1962, Lee and Kirby came up with the Incredible Hulk, influenced by Frankenstein and Dr. Jekyll and Mr. Hyde. "I had been racking my brain for days, thinking of something different, something nobody's ever seen before."
"I have a reputation for doing superheroes, but I like all kinds of writing. In fact, hardly anybody knows this, but I've probably written as many humor stories as superhero stories."

"I'm sort of a pressure writer. If somebody says, 'Stan, write something,' and I have to have it by tomorrow morning, I'll just sit down and I'll write it. It always seems to come to me. But I'm better doing a rushed job because if it isn't something that's due quickly, I won't work on it until it becomes almost an emergency and then I'll do it."

"It's a lot of work, but if you really have it in you, it's not like work. It becomes fun."
Lee deliberately used a hyphen in the spelling of Spider-Man so that his hero wouldn't be confused with Superman back then.
"Every day, there's a new development. there;'s no limit to the things that are happening."

"I always thought it was more interesting to think about Reed Richards. As you know, he had the ability to stretch, and sexually, that would seem to be a great asset in many areas."

Lee had fond memories of Canada and touring the Canadian comic book convention circuit: "I'd miss the enthusiasm of the fans, I'd miss meeting them, talking to them, kidding around with them," he told CBC host Doug Dirks in 2016. "I think I'll probably keep doing this forever. If cowboys die with their boots on, I'll die with my computer on."

"What did Doctor Doom really want? He wanted to rule the world. Now, think about this. You could walk across the street against a traffic light and get a summons for jaywalking, but you could walk up to a police officer and say 'I want to rule the world,' and there's nothing he can do about it, that is not a crime. Anybody can want to rule the world. So, even though he was the Fantastic Four's greatest menace, in my mind, he was never a criminal!"

"The 'problem' is that Comic-Con is so damned successful. People who are there seem to have a wonderful time. The very size of it makes it exciting. Wherever you look, there's something exciting. The attendees are always looking around for a familiar face. It's either 'There's a movie star!' Or, 'There's a TV star!' Or, 'There's the guy who drew the Green Lantern!' It means so much to the fans. It makes them feel like they're where it's happening. It's like Woodstock."
"Spider-Man" came about after seeing a fly crawl up a wall: "Somehow calling him 'flyman' didn't sound dramatic enough. What else could he be? Mosquito man? Then I said: Spider-Man. And it sounded so dramatic."

"We're living in a world where everything moves very quickly. We've become a very visual society, so I think it's a very natural thing that people are captivated with the illustrations in a story."
In 1971, Lee developed an anti-drug comic book upon request from the U.S. Department of Health, Education and Welfare. The Spider-Man comic, about Peter Parker's best friend Harry Osborn's struggle with addiction, would not be approved by the Comics Code Authority and was published without their seal of approval.
In 2002, Lee co-wrote his memoir, Excelsior! The Amazing Life of Stan Lee, with writer George

Excelsior actually means "Upward and onward to greater glory" Stan Lee started using it because his competitors used many of his other lines.

"If you're writing about a character, if he's a powerful character, unless you give him vulnerability, I don't think he'll be as interesting to the reader."


"Some people will say, 'Why read a comic book? It stifles the imagination. If you read a novel, you imagine what people are like. If you read a comic, it's showing you.' The only answer I can give is, 'You can read a Shakespeare play, but does that mean you wouldn't want to see it on the stage?'"

"I used to be embarrassed because I was just a comic book writer while other people were building bridges or going on to medical careers. And then I began to realize: Entertainment is one of the most important things in people's lives. Without it, they might go off the deep end. "

"Life is never completely without challenges."

"The pleasure of reading a story and wondering what will come next for the hero is a pleasure that has lasted for centuries and, I think, will always be with us."

"I'm happiest when I'm working. If I'm not working, I feel like I'm wasting my time."
Lee worked with DC Comics in the 2000s, launching the 'Just Imagine' series of books.
"Comics are stories; they're like novels or anything else. So the first thing you have to do is become a good storyteller."

"For years, kids have been asking me what's the greatest superpower. I always say luck. If you're lucky, everything works. I've been lucky."
Lee appeared in the 2004 film The Princess Diaries 2, in a cameo as a man obsessed with Three Stooges movies.
"Howard the Duck…should have been good, but every mistake in the book was made with that movie, and it didn't work. I didn't want to butt-in…"

"I have always included minority characters in my stories, often as heroes. We live in a diverse society—in fact, a diverse world, and we must learn to live in peace and with respect for each other"

"To me, writing is fun. It doesn't matter what you're writing, as long as you can tell a story."
Stan Lee made his first TV show appearance as a contestant on the family game show, To Tell The Truth, in 1971.
"No matter how good a story is, if you're at a newsstand and you see a lot of comic books, you don't know how good the story is unless you read it. But you can spot the artwork instantly, and you know whether you like the artwork, whether it grabs you or not."

"I suppose I have come to realize that entertainment is not easily dismissed. Beyond the meaning (of a work of art), it is important to people. Without it, lives can be dull."

"If you wanna be an artist, carry sketch pad with you, and sketch everything you see. Get so you can draw anything and it looks like what it's supposed to be."
Growing up, he earned the nickname "Gabby" for his charm and tendency to chat up a storm.
At 15, Lee entered a weekly high school essay competition sponsored by the New York Herald Tribune, called "The Biggest News of the Week Contest." He claimed to have won the contest for three consecutive weeks. According to Lee, the paper suggested he look into writing professionally, which he later claimed, "probably changed [his] life."¹
Stan Lee appeared in a commercial for Personna razors (1976).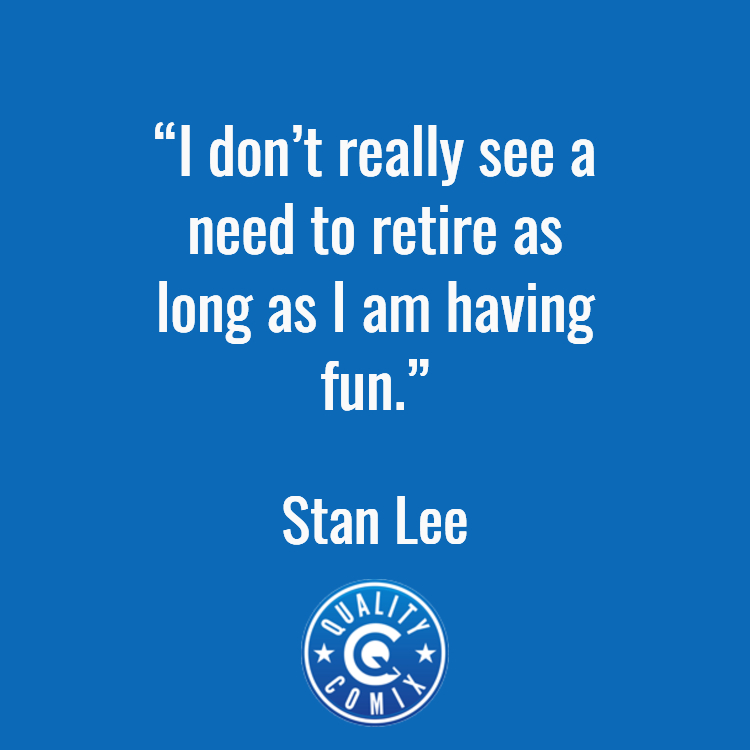 "I don't really see a need to retire as long as I am having fun."
Guardian Media Entertainment was formed by Lee and the National Hockey League to develop superhero characters for each team.
"I had a publisher who felt comics were just for little kiddies, so he never wanted me to use words of more than two syllables."
"The cliché I tried to avoid was I hated "teenage sidekicks." I always figured if I were a superhero, there's no way on God's earth that I'm gonna pal around with some teenager. So my publisher insisted I have a teenager in the series because they always felt teenagers won't read the books unless there's a teenager in the story; which is nonsense."

Lee claims his favourite cameo was for Avengers: Age of Ultron: "Well, I think the cameo that's my favourite is the one I did [with] Thor. I'm standing in a bar with him, and he's drinking this Asgardian drink, which is very powerful, and I ask for a sip, and he says, 'No, it would kill you,' and I insist. And he gives me a sip and then in the next scene, they're carrying me out."
While in the army, Lee received a transfer to the New York City-based Training Film Division, where he worked as a playwright.
Lee became a member of the U.S. Army in 1942 to help with the war effort. He was originally assigned to the Signal Corps based in New Jersey, tasked with fixing communications equipment and telegraph poles.
Between 1981 and 2001, Lee donated portions of his personal effects to the University of Wyoming, including interviews, fan mail and working manuscripts of his work.
In 1971, the Department of Health, Education, and Welfare reached out to Stan via a letter asking him to include an "anti-drug" quote in one of his books. Heeding to the request, Stan created a scenario in a Spider-Man comic issue where Harry (Spider-Man's best friend) started abusing the use of drugs as he couldn't handle his break up.

Conclusion

Stan Lee has been an icon of the comic industry for decades.
He's one of the most prolific writers in history, but behind every great person in society lies a lot of history.
This blog post is designed to give readers a more complete picture of this legendary figure by compiling his life story into easy-to-digest facts and stats.
Do you have any additions or corrections?
If so, please get in touch and let us know.