Superman
DC Comics // Summer 1939 - September 1986
Issue count: 423
After the overwhelming success of The Man Of Steel in Action Comics, DC wisely gave SUPERMAN his own title! Ceaselessly collectible, the first 100 issues are the most coveted and valuable!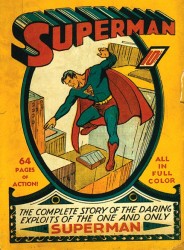 Not the one that started it all - but pretty darned close!
Superman debuted famously in Action Comics #1, but this is the book of his own that he was given because of the overwhelming success!
64 Pages issued quartely of only Superman stories!
There are too numerous key issues to mention, but the 40's books (and some from other decades) are big bucks!
If you have issues from that decade, or subsequent issues which feature the first appearances of major characters/villains, then get these appraised right away! Quality Comix will do it!
Arguably the most popular title in the whole of comidom!
Read More
Looking to sell your comic books?
Browse our selection of key issues from Superman below to get an instant estimate of their value.
We have been buying and selling for 20 years and have tons of experience working with sellers just like you!