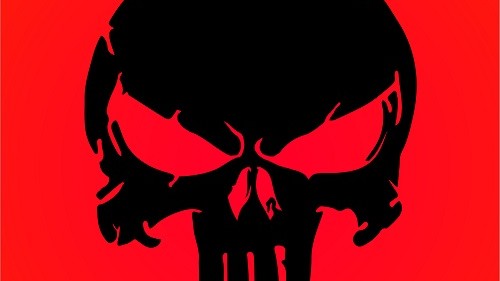 For a while, the punisher logo has been misused and adopted by the police. Now, Gerry Conway is taking it back.
Comic books are so well-ingrained into our society and culture that you find hints of them in the most unexpected of places. Take The Punisher's logo. It has hit the headlines recently due to its ties to the police force and the Black Lives Matter movement.
Related: Discover the most influential comic books in popular culture
The symbol has been misappropriated and adopted by the wrong people, but now co-creator Gerry Conway is taking back the Punisher logo and using it to show his support for Black Lives Matter.
Who Is The Punisher?
Gerry Conway co-created the character of Frank Castle (AKA The Punisher), alongside John Romita Sr. and Ross Andru. Castle made his debut in 1974's The Amazing Spider-Man #129. The character is a soldier-turned-vigilante who was initially created as a villain. However, the creators decided that given his strong moral code (though it is certainly not one suited to a hero), it made him the perfect anti-hero. He would go on to gain his own series and become one of Marvel's most popular characters, becoming hugely extremely well-known. The character has appeared in a number of films and, most recently, a 2017 series on Netflix.
The Punisher's Backstory
To understand why the Punisher's logo has drummed up such interest, and why the creator of the character is so frustrated about its misuse, we need to look at the Punisher's backstory.
Frank Castle began as a decorated war veteran. He returns home to find his family gunned down in the crossfire of a gang war. Castle was angered and disillusioned by the NYPD and their inability to bring the killers to justice. In response, he decides to take out his own form of justice, by tracking down killers and ending their killing sprees.
It's clear to see that the Punisher is not, and was never designed to be, a hero. Rather, Frank Castle represents someone who was let down by "the system". He is a tragic example of police failings — of what can happen due to corruption and oversights. As a result, Frank becomes a monster. He's an interesting character, but certainly not one you would want your local police force to identify with — unlike DareDevil, the Punisher has no faith in the system and he shows no signs of real redemption.

Sell your comic books to Quality Comix today for a fair price and for immediate payment. See our comic book price guide here.
The Punisher, The Skull and Police Officers
Despite Frank Castle's backstory, the Punisher logo has been particularly popular among police officers, with many adopting the iconic skull symbol. In fact, in 2014, when the Blue Lives Matter movement arose in response to Black Lives Matter movement, the Punisher logo was adopted by this camp. It became a sign of defiance against Black Lives Matter, much to Conway's frustration.
More recently, the Punisher logo has been seen on the uniforms of multiple officers following the murder of George Floyd. Conway has never been shy about expressing his complete distaste for this trend. In fact, in 2019, Conway told Syfy:
"It's disturbing whenever I see authority figures embracing Punisher iconography because the Punisher represents a failure of the justice system. He's supposed to indict the collapse of social moral authority, and the reality is some people can't depend on institutions like the police or the military to act in a just and capable way."
He goes on to say, in the Guardian:
"I think the way cops use it is extrajudicial: they are cops, and they are going to punish you. And the Punisher is an outlaw. He's a symbol of the failure of the justice system to treat everyone equally … About three years ago, when it started to show up on police cars and on challenge coins that cops were using, I was really disturbed, because it was such a fundamental misunderstanding of what the character was and was supposed to represent. In that sense, he's been completely defiled."

Related: Learn more about the Golden Age of Comics

Skulls for Justice: Reclaiming The Punisher Logo to Benefit Black Lives Matter
Since the murder of George Floyd, there has been a lot of pressure on the Walt Disney Company to take legal action against police departments on this issue, insisting that they shouldn't be able to use the Punisher's logo. Although Disney has yet to take any action, Conway has decided to take matters into his own hands.
On June 5, Conway took to Twitter to launch a project to reclaim the Punisher skull. The Skulls for Justice campaign (hosted by Custom Ink) is designed to benefit Black Lives Matter, while showing his support for the movement and his distaste for the way his creation has been misused. The project features t-shirt designs from four artists of color — Demonte Price, Don Nguyen, Wess Hancock, and Sam Ines. The t-shirts depict the famous skull along with the words "Black Lives Matter". All proceeds of the sales will go directly to the Black Lives Matter campaign to fight against police brutality.
Of the campaign, Conway says:
"For too long, symbols associated with a character I co-created have been co-opted by forces of oppression and to intimidate black Americans. This character and symbol was never intended as a symbol of oppression. This is a symbol of a systematic failure of equal justice. It's time to claim this symbol for the cause of equal justice and Black Lives Matter."

Related: How to start up a comic book collection

The Future of The Punisher in Light of Black Lives Matter
Conway recently told Forbes that he believes this could spell the end of the Punisher, stating that he never expects to see another Punisher movie or television series. However, he has also pointed out that this could be the perfect opportunity for a new Punisher to take center stage — "[A new Punisher] could be Latino or black or Asian."
This seems particularly fitting, given the age we are living in and the struggles and hardships many minorities are facing. And, of course, comic books are known to reflect popular culture, history, and landmark events. Having a Punisher of color take over would represent a change in the times, while also firmly ensuring that the Punisher logo is never again misused against the Black Lives Matter movement.
Quality Comix is the biggest buyer and seller of vintage comic books online. If you have a comic book, or a collection, you're eager to get valued, this is the place you need to be. Get in touch with our comic experts today.