Incredible Hulk
Marvel // April 1968 - March 1999
Issue count: 374
Learn what the value of your old Hulk comics are in our FREE price guide!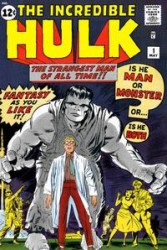 One of the most recognizable of Marvel Comics characters, The Incredible Hulk had a convoluted history with the publication of his stories.
Starting off with a bang in his own title in 1962, this classic take on The Jeckyl/Hyde storyline only lasted 6 issues until Marvel relegated him to co-feature status in their "Tales To Astonish" title. Although the Green Skinned One remained very popular, it was not until 1968 that it was decided The Hulk should have his own book again.
Beginning with the issue numbered #102, this time out The Incredible Hulk would run for over 30 years, with the last issue of this series coming out in 1999.
Initially, the creative team of Gary Friedrich and Marie Severin were given the writing and art duties respectively, Stan Lee himself shortly returned to write the book himself, coinciding with the arrival of new artist Herb Trimpe.
Trimpe would have one of the longest stints as artist, remaining until 1975, Lee would eventually hand over the chronicling of troubled Dr. Bruce Banner and his emerald alias to Roy Thomas, Gerry Conway, Len Wein, Roger Stern, Bill Mantlo, etc.
Sal Buscema would spend an even longer time pencilling the title after Trimpe's departure, ending his duties in 1985!
Much happened over the years within the key issues: among the most collectible of the 1968 series are issues #141, which introduced the world to Doc Sampson; #180, in which we get our first glimpse of Wolverine (in the last panel!); #181 - the most collectible 70's issue, and has become one of the most valuable comics of the Bronze-Age - which features the formal introduction of Wolverine; #182, the second appearance of Wolverine; #271, a valuable Rocket Raccoon crossover; #340 with Todd McFarlaine's epic Hulk/Wolverine battle.
If you have any of these, or any of the early 60's 6 issue run, you could potentially have a little goldmine!
As always, check current prices in our online price guide, and, if you are willing to sell them Quality Comix will always give you an honest appraisal!
Read More
Looking to sell your comic books?
Browse our selection of key issues from Incredible Hulk below to get an instant estimate of their value.
We have been buying and selling for 20 years and have tons of experience working with sellers just like you!