Disclaimer:
When you click on link title "Check Live eBay Prices Here" on this site and make a purchase, this can result in this site earning a commission. Affiliate programs and affiliations include the eBay Partner Network. Check our Privacy Policy for more information.
Invincible
Image // January 2003 - February 2018
Issue count: 145
Meet Mark Grayson, a totally ordinary teenage boy. Or is he? See what copies that are floating around are selling for by using our online price guide!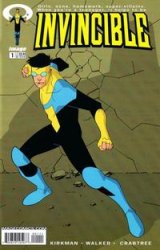 Invincible was a collaboration between Image Comics and Robert Kirkman, also known as one of the writers of The Walking Dead comics (Invincible was released only a few months before TWD). The story followed the adventures of Mark Grayson, a teenage boy like any other, but with a secret: his father is the most powerful superhero on the planet and Mark seems to be inheriting his powers.

Mark's adventures span 145 issues, until it finally ended in February 2018. Regardless, it had a great run and a huge fanbase.
Read More
Looking to sell your comic books?
Browse our selection of key issues from Invincible below to get an instant estimate of their value.
We have been buying and selling for 20 years and have tons of experience working with sellers just like you!