Disclaimer:
When you click on link title "Check Live eBay Prices Here" on this site and make a purchase, this can result in this site earning a commission. Affiliate programs and affiliations include the eBay Partner Network. Check our Privacy Policy for more information.
Human Torch
Timely // Fall 1940 - August 1954
Issue count: 38
One of Timely's best-selling titles, THE HUMAN TORCH often features SUB-MARINER backup stories as an added bonus! Original issues sell for good chunk of change! Check our price guide for examples...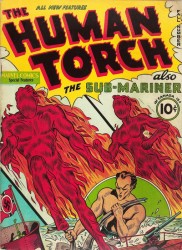 The first issue of Timely Comics quarterly, giant sized (68 pages!) The Human Torch, which hit the newstands in Fall of 1940, was actually numbered #2, taking over the numbering from the very short-lived Red Raven Comics, a failed Simon and Kirby creation that was promptly given the axe.
The creation of writer/artist Carl Burgos, Torch was a hit since its debut in the iconic Marvel (Mystery) Comics #1 in 1939. So much so, that he demanded a bigger title of his own.
Now, let's get this over with; The Human Torch was NOT human at all. He was an android created in a laboratory by a scientist named Phineas Horton. He really didn't plan on his creation spontaneously combusting when exposed to oxygen, but this was an unfortunate glitch, or fortunate as it turns out, because he chose to use his power to combat evil.
Early on, Torch was almost an anti-hero, inspiring fear and anger among humanity. But the character was quickly toned-down, controlling when he would "flame on," and given human qualities to the degree that the reader eventually forgot he was actually an android. Torch was given the alter-ego of Jim Hammond, a police officer in New York City. This gave him the edge on the various crimes that he would eventually thwart in the guise of the Human Torch.
As was the fashion since the advent of Batman's Robin, Torch was given a juvenile sidekick, Toro, an exploited sideshow freak that could burst into flame at will, and had an aversion to wearing a shirt or long pants.
Another title which boasted lovely, detailed covers by master Alex Schomburg, Torch's stories alternated with regular co-feature, Bill Everett's The Sub-Mariner, a sure-fire (yes, I went there) recipe for success, as the two were paired together in several other titles (Marvel Mystery, All-Select, All-Winners, U.S.A., and even Subby's own book!), but occasionally other heroes crept into co-features; The Falcon, The Fiery Mask, and The Patriot.
Burgos held the reigns of The Human Torch for as long as he could, both scripting and drawing the bulk of his stories in all the titles that featured the character, although he would occasionally let Mickey Spillane or Stan Lee write a script. Alas, he was conscripted, along with Sub-Mariner writer/artist Bill Everett, into the army in mid-1942 to help battle the bad guys for real, in WWII. His last issue on The Human Torch title was #7.
During this time, art duties on the Torch went mostly to either Harry Sahle or Al Gabriele, and later on Jimmy Thompson, and (rumoured) Mike Sekowsky, Gene Colon and Carmine Infantino.
It is hotly debated (I did it again) as to whether Burgos actually drew any Torch stories after his hitch was up. He did do some advertising work, and some horror/supernatural stories in the late 40's
As with most hero books, the sales went steadily down after the war, and the original Timely Comics run ended with issue #35, in March of 1949.
The Early 40's books are unbelievably pricey on the market, but the later 40's books are harder to come by for the simple fact that they did not sell as many copies!
Read More
Looking to sell your comic books?
Browse our selection of key issues from Human Torch below to get an instant estimate of their value.
We have been buying and selling for 20 years and have tons of experience working with sellers just like you!