Incredible Hulk #181
Published November 1974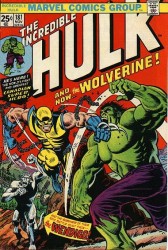 What's Incredible Hulk #181 worth in 2022?
Incredible Hulk #181 is the defining issue of the Bronze Age of comic books. While there were many other characters created and that debuted in this span of time, Wolverine is by far the most popular in comics and film. All of this popularity translates into soaring values. A NM/MT 9.8 copy sold for $39,000 in 2018. You will pay a premium for any grade as illustrated by the recent sale of a FN 6.0 for $2,600. In 2009 you could've picked this book up for $600. Don't expect any deals on low grade books either as we've seen GD 2.0 copys bringing over $1,000 compared to $275 back in '09. The good news is if you are looking for a sure bet as far as increasing value and minimal market fluctuation Incredible Hulk #181 is it. There is simply no bigger first appearance in this era.
Why is this comic book valuable?
November of 1974 Incredible Hulk #181 would debut Marvel's future fan-favorite Wolverine in his first full appearance in comics. The battle between the Hulk and Wolverine would be the first of many epic and legendary such battles and stories. Less than a year later (summer of '75 in Giant-Size X-men #1) Wolverine quickly found himself thrust into the starting lineup of a brand new X-men team that included Storm, Nightcrawler, Cyclops, and Colossus. The rest, as they say, is history!
Price Guide Report
| GD 2.0 | VG 4.0 | FN 6.0 | VF 8.0 | NM 9.4 | RECORD SALE! |
| --- | --- | --- | --- | --- | --- |
| $1,150 | $1,750 | $2,425 | $3,800 | $9,725 | $138,000 |