Action Comics #23
Published April 1940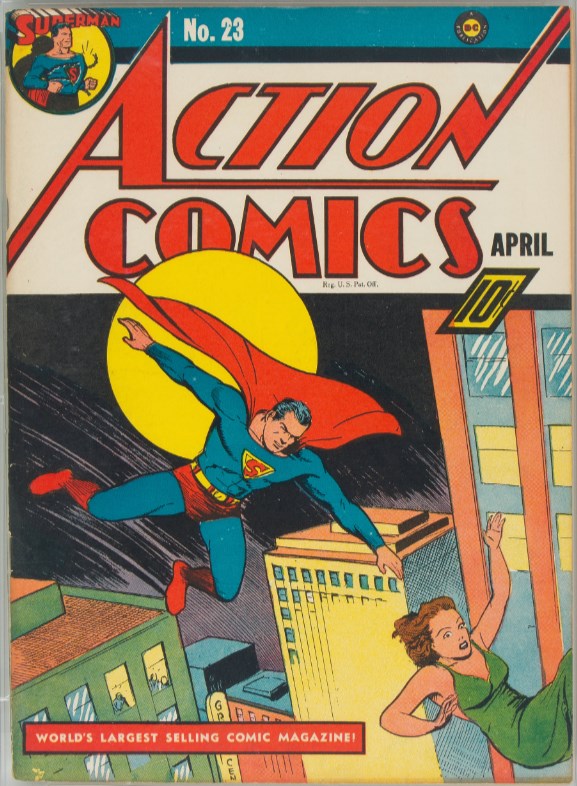 What's Action Comics #23 worth in 2021?
This is a popular issue with all Superman collector's. Lex Luthor has proven to be Superman's greatest nemesis and the most diabolical villain. As such it has enjoyed very strong returns over the years. Let's take a look at GPA's numbers for a mid grade CGC Fine+ 6.5. One copy sold for $8,800 in 2012 then just six years later in 2018 that same book brought $37,500. Quite an increase. Even the low grade books like a CGC GD- 1.8 went from $1,400 in 2012 to $7,500 in 2018. We believe if someone had a CGC NM+ 9.6 might bring as much as $300,000. The highest graded copy on record sold for $65,000 in 2015 as reported by GPA.
Why is this comic book valuable?
What makes a comic books valuable other than rarity? The characters of course. Action Comics #23 is no exception. Lex Luthor is one of the world's most brilliant minds and most famous villains and he makes his first appearance in this issue. Not the bald, imposing figure most of us know but as a red haired business man. This particular story would also introduce us to The Daily Planet. The CGC Census reports less than 150 copies in existance.
Price Guide Report
| GD 2.0 | VG 4.0 | FN 6.0 | VF 8.0 | NM 9.4 | RECORD SALE! |
| --- | --- | --- | --- | --- | --- |
| $8,000 | $18,000 | $36,000 | $75,000 | $225,000 | $72,000 |