Disclaimer:
When you click on link title "Check Live eBay Prices Here" on this site and make a purchase, this can result in this site earning a commission. Affiliate programs and affiliations include the eBay Partner Network. Check our Privacy Policy for more information.
Action Comics #1
Published June 1938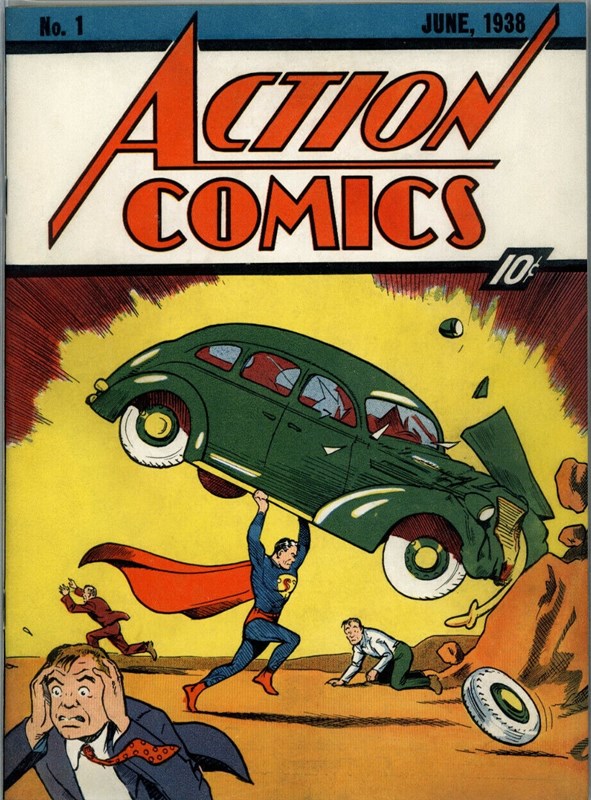 What's Action Comics #1 worth in 2023?
The value of Action Comics #1 in Mint condition doesn't exist that we know of to date. If a CGC NM+ 9.6 copy came up for sale, we think it could sell for $8 million to $10 million. The highest graded copy (untouched by restoration artists) is a CGC VF/NM 9.0 and sold for $3.2 Million back in 2014. Of the 72 copies graded by CGC, only 40 are considered unrestored (not modified from it's original state in any way). Even in low grade, copies can fetch $300,000 or more. If you have a copy, someone will have to back up the Brinks Truck to buy it from you! If you're looking for a copy, do your research, and be patient. It will take significant time to find a copy that you like at the price point that you want, especially if you're looking for one that is unrestored.
Why is this comic book valuable?
The first appearance of Superman really needs no introduction does it? For those of you living on planet Mars, Action Comics #1 was created by Jerry Seigel and Joe Shuster in 1938 and kicked off the superhero genre as we know it. All Marvel/DC Superheroes and movies owe their origins to this issue where it all began. Lois Lane also was introduced in Action Comics #1, adding to the demand for this issue. There are estimated to be less than 100 copies of Action Comics #1 left in existence out of a print run of 200,000. The combination of scarcity and demand for the first American Superhero has skyrocketed the value in recent years. If you think you have a copy of an original Action Comics #1, make sure you check the cover for the 10 cent sales price. If it doesn't have 10 cent on the cover, then you're looking at a reprint which is worth a small fraction of the original's value.
Price Guide Report
| GD 2.0 | VG 4.0 | FN 6.0 | VF 8.0 | NM 9.4 | RECORD SALE! |
| --- | --- | --- | --- | --- | --- |
| $175,100 | $573,600 | $3,180,000 | $4,000,000 | $8,000,000 | $3,250,000 |