Adventure Comics
DC Comics // November 1938 - September 1983
Issue count: 472
One of DC's longest running titles brought us favorites such as THE SANDMAN, HOURMAN,LEGION OF S.H and notably SUPERBOY! Early & Key issues are most valuable-details on our price guide!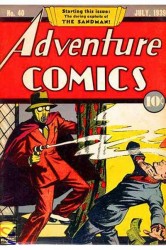 A Well respected title from DC that ran for almost 50 years, ADVENTURE COMICS began life as a humor comic (New Comics, Dec. 1935), and eventually ended up being re-titled with issue #32. At first, it was indeed a conventional adventure series, with tales of detectives and hot-tempered, two fisted men at sea, etc.
However, the book began it's about-face with issue #40, when, riding the crest of the oncoming superhero genre, they introduced THE SANDMAN (July 1939) - initially a gas mask and cape wearing crusader (as opposed to the colorful "long underwear" look of Superman and Batman).
Adventure continued with Sandman as their lead feature in the book, and retained many of the other conventional stories as backups until they gave us Bernard Baily's HOURMAN in issue #48. He DID have the colorful long underwear!
Not really having done-away with the more conventional detective/adventurer-type backup stories, Adventure Comics DID start to become a title known for debuting the newest Superhero creations; in the 40's they offered up Jack Burnley's STARMAN, and notably, when the highly successful creative team of Joe Simon and Jack Kirby defected to DC from Timely (where they made Captain America a houshold name, among others), they created such fan favorites as THE MANHUNTER and a re-booted, costume-wearing version of THE SANDMAN, who now had a young partner, Sandy, in tow (ala Robin, or Bucky).
By 1947, the book had settled comfortably into being the home for SUPERBOY, but still offered some beloved lesser-known superheroes as JOHNNY QUICK (many stories notably being drawn by one of the indutries' greatest artists, Mort Meskin, who also drew later Starman entries), THE SHINING KNIGHT, THE GREEN ARROW, and AQUAMAN.
Most of the 40's issues are prized among collectors, and demand high prices on the market (depending on condition)!
Into the 50's, DC was one of the only companies that had the resources to hold on to their superhero roster, as many companies caved-in to the now-fashionable demands for horror/supernatural, science fiction and real-crime titles...
Sticking it out through the lean years, Adventure went on to give us THE LEGION OF SUPER HEROES, SUPERGIRL, revivals of THE SPECTRE, AQUAMAN, PLASTIC MAN, and an All-new STARMAN, plus many others!
Looking to sell a rare issue or collection of Adventure Comics? Contact our team for a free appraisal.
Read More
Looking to sell your comic books?
Browse our selection of key issues from Adventure Comics below to get an instant estimate of their value.
We have been buying and selling for 20 years and have tons of experience working with sellers just like you!