Detective Comics
DC Comics // March 1937 - October 2011
Issue count: 883
This is A BIG ONE in American popular culture! Although is existed for a while, it was with issue #27 that history was made with the 1st appearance of BATMAN!! All his early appearances go for astronomical amounts! #27 is a "Holy Grail" find!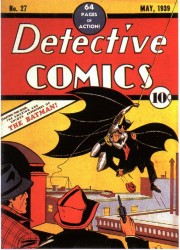 Aside from the appearance of proto-superhero The Crimson Avenger (he wore a mask), Detective Comics, a very early title for National/DC premiering in 1937, was just that - a book that featured various gritty-detective stories.
This was all turned upside down with issue #27, when, following closely on the heels of surprise success Superman, came the introduction of DC's second iconic character : THE BATMAN!
Bob Kane's creation was like no other before it, with its protagonist having a complicated and tragic back story - territory not really seen in comics before that. Millionaire Bruce Wayne was a dark, brooding, figure who had witnessed the murder of his parents as a young boy. Obsessed with finding a way to serve justice, he assumed the identity of The Batman, and generally went after his criminal prey during the night...
People loved it, and it quickly became a best-seller. Detective, however never really let go of it's more conventional detective co-features, but did, with time, start featuring supporting stories of The Boy Commandos and the criminally underrated hero Air Wave.
As the 40's progressed, the Batman character was significantly watered-down, taking on an often slightly humorous tone.
The Golden-Age issues are little treasures, fetching high prices on the vintage comics market.
Looking to sell your Detective Comic issue or a collection of comics you own? Browse our wide selection of Detective Comic price guides by issue. Get a ballpark estimate of the value of your comic based on its grading and condition. We have been buying and selling for 20 years and have tons of experience working with sellers just like you! Get in touch for a FREE appraisal.
Read More
Looking to sell your comic books?
Browse our selection of key issues from Detective Comics below to get an instant estimate of their value.
We have been buying and selling for 20 years and have tons of experience working with sellers just like you!