Disclaimer:
When you click on link title "Check Live eBay Prices Here" on this site and make a purchase, this can result in this site earning a commission. Affiliate programs and affiliations include the eBay Partner Network. Check our Privacy Policy for more information.
Ace Comics
David McKay // April 1937 - October-November 1949
Issue count: 151
One of the first hit comics in history! See what copies that are floating around are selling for by using our online price guide!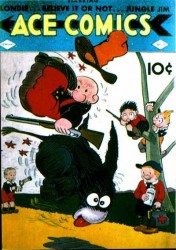 Ace Comics was a comic series released just before the beginning of the Golden Age of comics. It ran for 151 issues, from 1937 until 1949.

They were long issues, with over 65 pages, often featuring 20 or more stories with different characters.

The stories were about everyday people, not diving into the superhero or horror subjects which later dominated comics. One exception might be The Phantom, but his stories are catalogued as jungle comics, so he's not a superhero per se.

Nonetheless, Ace Comics #11, the first appearance of The Phantom, is regarded by many to be a key issue in the history of comics, as it introduced to the comic format one of the first costumed heroes, leading to the Golden Age of superheroes in comics.
Read More
Looking to sell your comic books?
Browse our selection of key issues from Ace Comics below to get an instant estimate of their value.
We have been buying and selling for 20 years and have tons of experience working with sellers just like you!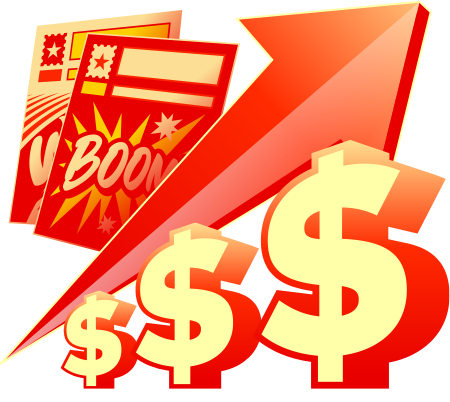 Issue #11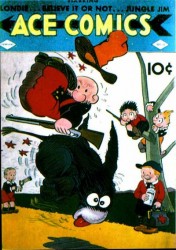 What's Ace Comics #11 worth in 2023?
The top price for a copy of Ace Comics #11 is $5,990 for a 6.5 copy, sold in May 2021. The same issue was sold in 2019 for $6,800. A 4.0 book has a May 2013 price of $1,010, being the only time it was sold, and a 3.0 copy has a value of $1,426 as of September 2018, increasing its 2013 price of $947.
Why is this comic book valuable?
Issue #11 of Ace Comics Vol. 1 has a cover date of February 1938. It was written, penciled and inked by Robert L. Ripley, Lee Falk, Don Moore, Feg Murray, C. D. Russell, H. H. Knerr, Russ Westover, A. D. Carter, and Lyman Young.
Key Facts About the Comic
Ace Comics was one of the first comic series that were a success in the market. Dating from 1937, they were long issues featuring over 20 short stories and people liked them immediately.
Story Synopsis
The issue features short stories with different characters:

1. Believe It Or Not
2. The Phantom
3. Jungle Jim
4. Seein' Stars
5. Pete the Tramp
6. Katzenjammer Kids
7. Sports in Pictures
8. Elmer
9. Tillie the Toiler
10. Nicodemus O'Malley & his Whale, Palsy-Walsy
11. Dream Land
12. Just Kids
13. Tim Tyler's Luck
14. Blondie
15. King Cat - Part 5
16. On Our Block
17. Curley Harper at Lakespur
18. The Stamp Spotlight
19. Teddy and Sitting Bull
20. Barney Google
21. Etta Kett
22. Krazy Kat
23. Room and Board
24. Daffy Doodles
Price Guide Report
| GD 2.0 | VG 4.0 | FN 6.0 | VF 8.0 | NM 9.4 | RECORD SALE! |
| --- | --- | --- | --- | --- | --- |
| $1,500 | $3,000 | $6,000 | $12,000 | $48,000 | $5,990 |