Action Comics Price Guide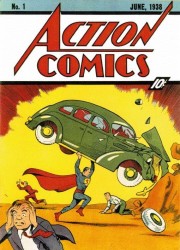 DC/National Comics rocked the industry and set the standard with the introduction of SUPERMAN in issue#1; perhaps the most coveted and expensive comic book ever! You may be able to retire if you own this one! See Quality's online price guide and be in awe
| | |
| --- | --- |
| Publisher | DC Comics |
| Publication Dates | June 1938 - Present |
| Issue count | 866 |
April 18, 1938 : The day that made Comic Book History with the publication of Action Comics #1. A writer from Cleveland, Ohio, Jerry Siegel, and artist, Joe Shuster, originally from Canada, but whose family emigrated to Cleveland, had met and created the most iconic superhero in America : SUPERMAN - and though the character had gone through many revisions, it took nearly six years it took to sell the Man Of Steel to a publisher!
Seigel and Shuster had found early work at National Allied Publications, which would ultimately become industry-leader DC Comics. They famously worked on some of the first titles to feature all original material, as opposed to previous comic "books," which merely reprinted newspaper dailies and Sunday color inserts in anthology form.
They had pitched Superman to National, but it was pushed aside and forgotten, until the company was forced to take on new partners due to lack of funds, and was re-booted as Detective Comics (DC). With the new regime in place, and the demand for new material high, the idea was was dusted off and given a chance as cover and lead story in ACTION COMICS #1, which would publish monthly.
The idea of a costumed Superhero was unprecidented at the time, and it wasn't until the overwhelming fan response came in that Superman gradually took over as the lead story in every issue, and in 1939, dominated the cover of every subsequent issue. Superman's popularity necessitated DC starting a new title in 1939 dedicated to 64 pages of only SUPERMAN stories (appropriately titled SUPERMAN).
Although written and drawn Seigel and Shuster (sometimes "ghosted" by others) for a good while through the mid 40's, other artists have been closely associated with the character over the years, most notably the excellent work of Wayne Boring, and later Curt Swan.
Action #1 is the most collectible comic book in history; the most recent issue on the market fetched over $3 million dollars! It goes without saying that almost the entire 1940's run of Action trade hands at high, high prices...
Most important may be the legacy of the introduction and high sales of all things Superman, which directly inspired even the smallest of publishing houses to follow suit and introduce their own Superhero titles - creating the immense popularity of the genre in the Golden Age!
Looking to sell your comic books? Browse our selection of key issues from Action Comics below to get an instant estimate of their value. We have been buying and selling for 20 years and have tons of experience working with sellers just like you! Get in touch for a FREE appraisal.