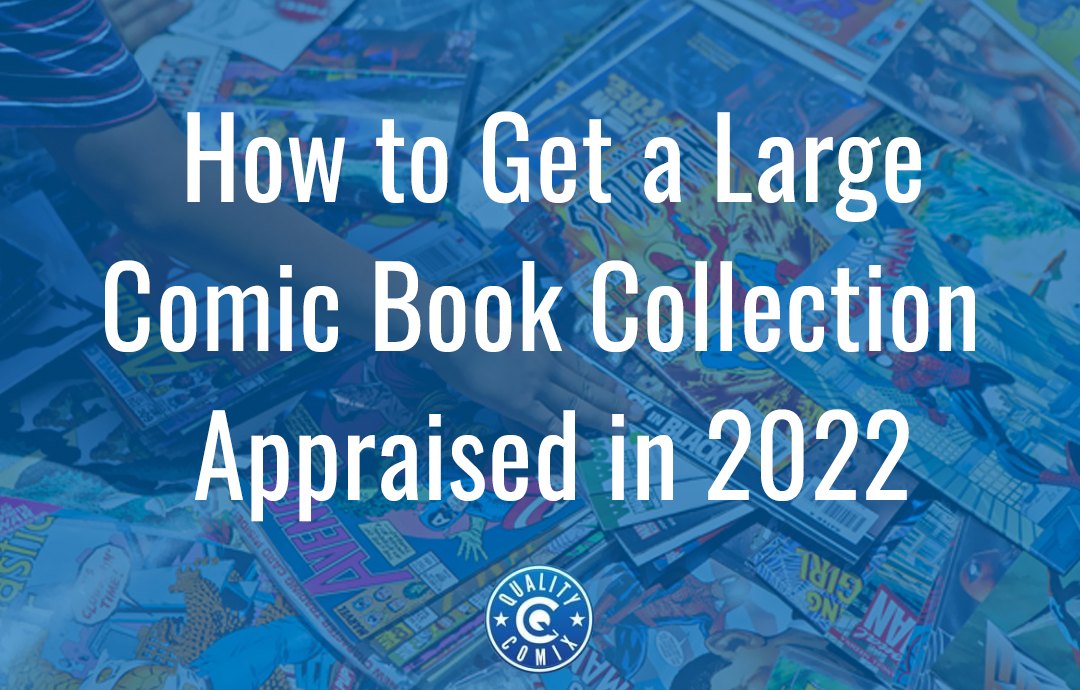 If you've been a comics fan for a while, chances are you've racked up quite a collection.
Perhaps you've been curating an extensive collection for a while and want to know what the whole thing is worth. Maybe you went into it expecting to keep your comics for a while and sell for a profit later, or you enjoy the medium and wonder if any of the books you have are particularly valuable. Or, you want a new insurance policy and need a general value to get appropriate coverage.
Whatever the case is, an appraisal is the best way to go. The trouble is, assessing a single book is about more than just the series and issue number. Condition plays a significant role in the value of a collection, as do factors like whether or not you have complete runs and sets.
If you have a few books to appraise, it's easy enough to use an online tool like ours to estimate the current value of your collection. But we know as well as anyone that putting dozens of books through a tool one by one is tedious, let alone a collection of hundreds or thousands, and even that doesn't consider additional factors like if a collection is complete or if there are signatures, and so on.
Step 1: Categorize Your Comics
The first step is to categorize your comics according to era. Generally, the older a book is, the more valuable it can be, though there are exceptions in every period.
The four general eras are:
Golden Age
Silver Age
Bronze Age
Modern Age
Let's break down each of these categories: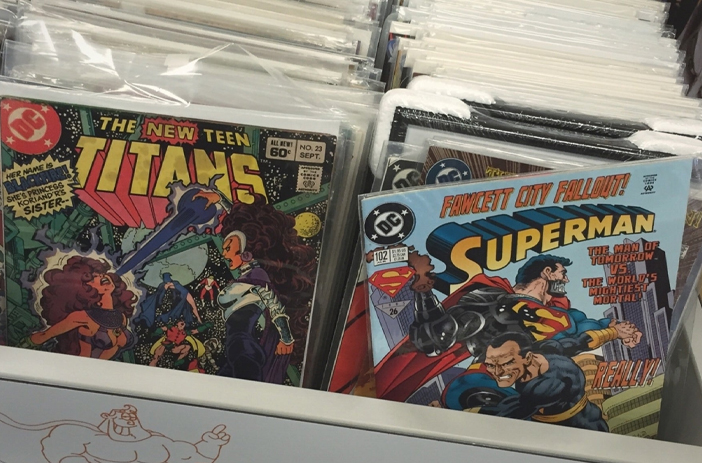 Golden Age
Golden Age comics are the oldest, from the 1930s, 40s, and 50s. They're the 10-cent comics and range from the best-known lines like DC Comics, Archie Comics, and any of the various horror lines to lesser-known prints that are always desirable to collectors. Nearly any Golden Age comic will have some value simply due to their rarity. The better the condition and the rarer they are, the higher their appraisal will likely be.
For a good reason, many of the world's most valuable comics come from this era. The Golden Age is the origin of the most popular and enduring characters and represents a slice of history.
Silver Age
Silver Age comics were the initial heyday of the superhero genre, and the era broadly encompasses 12-cent comics. This group is primarily comics from the 60s, though some from the late 50s and early 70s can also qualify as silver age. These are the most variable in price and largely depend on factors such as whether or not they introduced now-famous characters, are an edition "Number 1", or are just in fantastic condition for their age. Of course, every book is valuable to someone if that person is collecting a whole run.
Bronze Age
Bronze Age comics come from the 70s, though comics from the late 70s tend to have lower values simply due to how many people were starting to collect them (meaning there are a lot more of them around, in overall better condition, increasing supply and decreasing demand.) Of course, key issues, first editions, and other stand-out books are always popular.
Modern Age
Modern Age can also be known as the Copper Age, or there can be a line drawn between Copper and Modern, though it often depends on who you talk to. These encompass everything from 1980 to the present day, when comics exploded in popularity, mass production reached scales never before seen, and the vast majority of books aren't worth much more than the price of paper.
Stand-out issues, key issues, and firsts can carry a premium. There have also been various attempts to add value through limited print runs, variant covers, special inserts, and a whole host of other gimmicks. Whether or not these releases ultimately became valuable depends on the book, which is what makes appraisal so crucial for more modern collections.
A collector with a modern collection might find the whole thing is barely worth the cover price. On the other hand, specific issues can be worth a few hundred bucks each, especially if they're in excellent condition.
Step 2: Search for Key Issues
Every era has critical issues worth more than the average, and they're always worth seeking out.
Luckily, there are plenty of resources to find those issues. Our price guide can get you started by pointing out the most valuable issues from specific print runs and labels, for example. You can also find individually-curated guides like those from Rare Comics, sorted by decade or year.
If your collection is large enough, you might consider creating a spreadsheet of everything you have.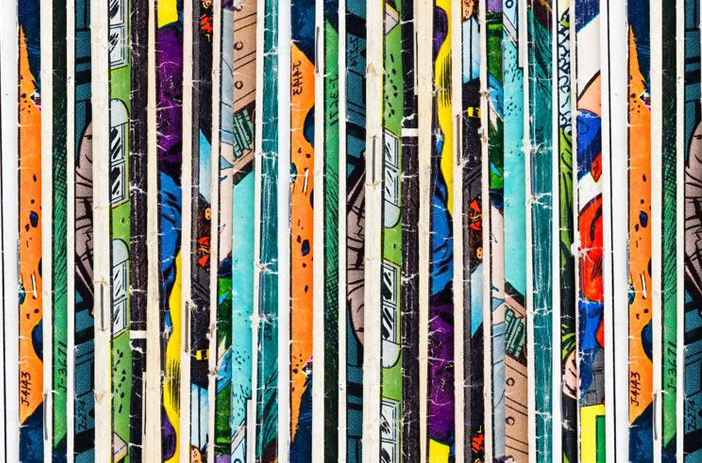 Write down information like:
The comic line (Marvel, DC, Archie, etc.)
The series (Ultimate Spider-Man, New Mutants, Incredible Hulk, etc.)
The year
The Issue number
Estimated condition (using a standard scale like CGCs)
Whether or not they've been stored properly
Whether or not they've been graded and slabbed
Having all this information on hand will help when you appraise a whole collection or list a collection in bulk for sale (if that's your intent). Even if you don't want to sell immediately, having the information on hand will make the process easier.
Step 3: Consider Additional Qualities
A bunch of additional factors can affect the overall value of individual books and comprehensive collections.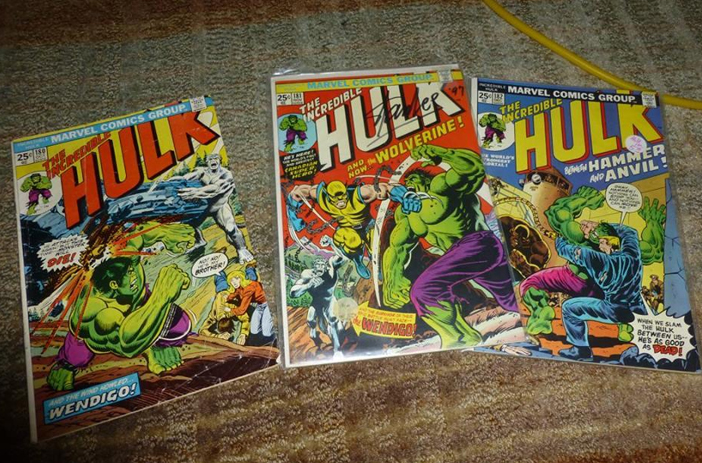 For example:
Signatures are tricky in the comics business. Do any of your comic books have signatures? Can those signatures be verified? Signatures can easily add value to a book if they can be verified and validated, but if they can't, the book ends up being treated as damaged instead. Unfortunately, it can be challenging to verify the authenticity of a signature in retrospect.
With issues that have extras, are those extras intact? These include fold-out posters and pin-ups, coupons, and assorted other freebies. Often, these are the first things to go missing from a book, so if they're still intact, they can add value to the issue.
Are they variants? Modern-era comics were all about variants; consequently, many of those variants aren't worth a premium. For older comic lines, though, variants were differences in print runs, newsstand versus direct-sold copies, and more. Even variants for different regions (USD vs. CAD vs. Pence pricing, for example) could carry different values.
Sometimes these are easy to see, but sometimes they can be as subtle as a different barcode on the cover, so if any of your books are valuable or known to have valuable variants, it's worth checking.
Do you have full print runs or complete collections? Most comics don't run indefinitely. Their stories end, and a new story will start with a new issue #1. Depending on the comic, the line, and the run, a complete collection can be more valuable than each issue individually. This phenomenon is especially true for older comics and even more for Golden Age comics, where rarity makes a complete collection almost unattainable.
Step 4: Check for Values
Using the above steps to categorize and filter your comics, you will have a general idea of what you're looking at. You can appraise a collection where each issue is worth $2, $5, or $10 in bulk.
A collection where each issue can be $50, $100, or $500, might need a closer and more individualized appraisal.
At this point, you can decide what kind of appraisal method you want to use.
Option 1: Legwork and Auctions
The first option is by far the most tedious. You have a list of your books; start looking for values online. You can check comic stores, eBay auctions (be sure to check items that sold, not just listings), and other venues. If you only have a few dozen or a hundred comics, that's fine, but this option quickly grows tedious.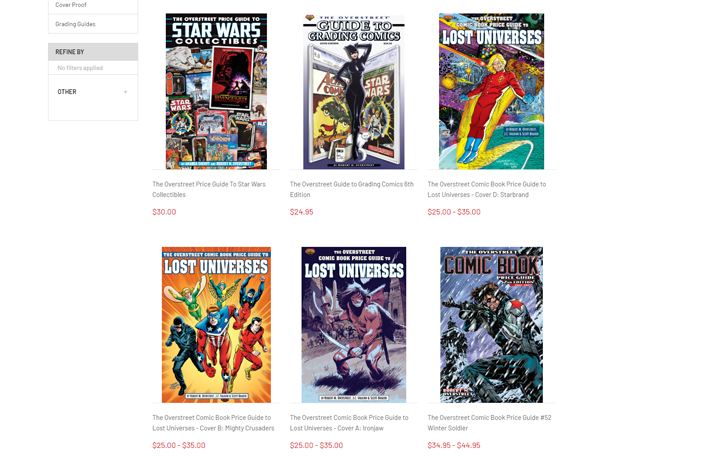 The primary way to appraise comics this way is using a price guide like Overstreet. Overstreet price guides are some of the best in the business, but you are still required to comb through them individually.
Option 2: Using a Tool
Tools like our title search and appraisal tool can help you appraise comics individually. Other online tools may have more comprehensive databases, but no one will have a complete list.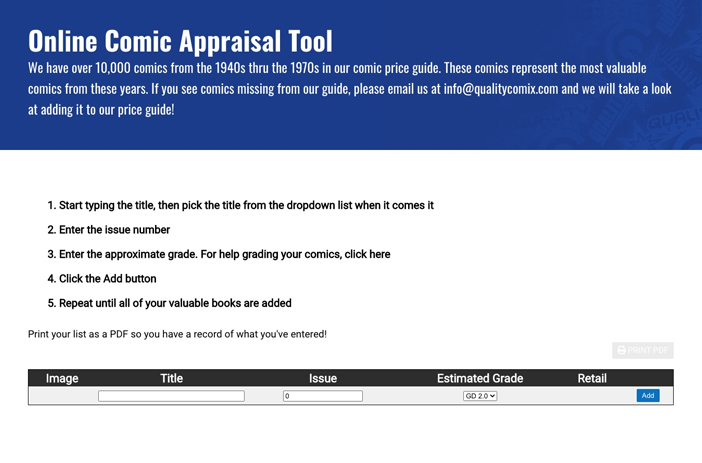 You may have to piece together an appraisal through multiple lists and tools; even then, you might not catch everything you own. Of course, we don't have prices for every comic in every condition, and we specialize in high-value comics.
Option 3: Local Comic Stores
Local comic stores are another option, though it's one we hesitate to recommend.
On the one hand, a local comic store can be your best ally in appraising and potentially selling comics.
A sufficiently connected comic store can have immense resources to appraise and sell comics for fair value.
Plus, your local store can be a great place to buy more, fill in the gaps in your collection, and potentially even get comics graded through them rather than paying all of the fees yourself.
On the other hand, comic stores are highly individual. Less scrupulous individuals may run some stores, and they may be more than happy to lowball you to take a collection off your hands and make a quick profit. It all comes down to how much you can trust the folks at your local store.
At the very least, shop around. Drive a bit out of town and check a different local store, pick a few key issues, check their values online, and have comparisons to make sure you aren't being taken for a ride.
Option 4: Professional Appraisal
If your collection is huge and potentially valuable, or you want the best possible valuation, your option will be a professional appraisal. You can get this for free from some companies and for a fee from others.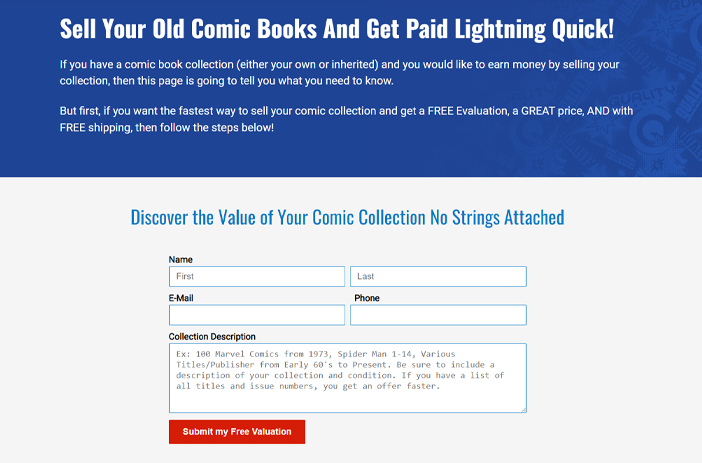 For example:
Our appraisal. Some contact information and a description of your collection are all we need to get started with a free appraisal of your comic books. If we need more information, we'll reach out, and we're more than happy to work with you to compile accurate values for your collection to the best of our ability.
Heritage Auctions. As a large dealer in collectibles, HA has enormous amounts of data and resources to appraise a collection. However, they may give you auction value rather than a fair market value. They also don't appraise anything newer than 1980, even if it's a key issue or part of a complete collection.
It's All Just Comics. Despite the dismissive name, you can get a reasonable appraisal from these folks. However, they request scans of your books, which may be more effort than you're willing to put in, especially for larger, older, or more valuable books. Also, like HA, they don't do anything more recent than 1980.
Turnaround times for professional appraisals can vary depending on the number of books in your collection, the details you offer, how specific you are, and more. That's why the spreadsheet we mentioned above is a great idea; it's an excellent resource to send to a professional.
A professional appraisal is generally more trustworthy overall – they have a lot less reason to try to lowball you – and the least effort on your end. Still, you may have to jump through hoops to use that valuation for things like insurance. That depends as much on your insurance company as on the appraisal, though.
Selling Your Comics?
While we're happy to help you appraise your comics just for the sake of knowing what you have, we're here to help you sell your collection.
You can get in touch with us on our website here. We'll give you a free evaluation with no strings attached, so if you decide to hang onto them or sell them somewhere else, at least you'll have a great idea of their fair market value.
Whether you have a few valuable issues or a whole collection that you'd like us to take a look at, drop us a line, and we'd love to lend a hand. Who knows? Maybe you'll break a record with a criterion collection. You'll never know until you have a professional take a look!