Silver Surfer
Marvel // August 1968 - September 1970
Issue count: 18
Silver Surfer remains one of the most collectible characters that Marvel first presented in the 60's. Virtually every issue of his first solo series is considered a key, and a potential money-earner among comic book fans! See what yours may be worth!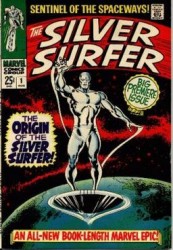 March, 1966. Fantastic Four issue #48. Ground zero for one of the most beloved and sympathetic characters in the Marvel Universe : THE SILVER SURFER!
Ok, now get this; there's this gigantic bad dude named Galactus, whose main raison d'etre is to roam around the universe finding planets to destroy - he was just made that way! Anyhoo - the big guy comes across this planet that he intends to devour called Zenn-La, where he comes into contact with an impassioned young man named Norrin Radd, who pleads so desperately for his planet to be saved, that he ends up striking a deal with Galactus wherein he agrees to work for him as his designated planet-finder, and in return Galactus agrees not to destroy Zenn-La.
Now, poor Norrin can not do this job as his ordinary self, so Galactus makes him into this silver, metallic-skinned super being and gives him a magic surf-board so he can get around the universe finding new planets the big purple guy can lay to waste. Sounds nutty, right? Well, Stan Lee thought so also - and he told Jack Kirby, who came up with the idea - as much.
But are you going to absolutely veto Jack Kirby? The man who has been working tirelessly drawing hit after hit for you going back to the 40's?!? Of course not - you at least give the idea a whirl, right?
Despite Lee's reservations, the Silver Surfer became a big star, almost immediately earning a rabid fan-base! Many cameo's and storylines involving him become more frequent in Fantastic Four.
But in that original storyline (FF #48 - #50), the Surfer makes his way to Earth, and deems it a place that Galactus should check out; however a wrench is thrown into the works when he runs into the FF, and in particular Alicia Masters, Ben Grimm's blind girlfriend, who convince the Surfer that Earth is worth saving, and that he should turn away from his servitude to Galactus.
Thus begins the major conflict which follows Silver Surfer throughout his existence .Also, he decides to be a permanent resident and protector of Earth…
In 1968, with the character firmly established, Marvel finally gave him his own book, by which time Stan Lee had taken such a shine to the Surfer, that he ended up scripting the entire 18th issue run himself. Veteran John Buscema drew most of the issues, adding a different but dynamic twist from the Kirby renderings of the anti-hero.
Virtually every issue of his own title (and his FF appearances) is collectible and potentially valuable.
Check out what prices these comics are demanding in the marketplace by using Quality Comix's online price guide! For a free, expert appraisal - get in touch today.
Read More
Looking to sell your comic books?
Browse our selection of key issues from Silver Surfer below to get an instant estimate of their value.
We have been buying and selling for 20 years and have tons of experience working with sellers just like you!