Disclaimer:
When you click on link title "Check Live eBay Prices Here" on this site and make a purchase, this can result in this site earning a commission. Affiliate programs and affiliations include the eBay Partner Network. Check our Privacy Policy for more information.
Silver Streak Comics
Lev Gleason // December 1939 - May 1942
Issue count: 23
Adventures of the second Super Speed Hero of the Golden Age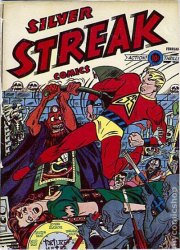 In 1939 Arthur Bernhardt of Rhoda Publications was inspidered by his Pontiac Silver Streak to name a new comic title. The actual hero titled Silver Streak didn't appear until issue #3 when the title was taken over by Lev Gleason Publications. Oddly there is no silver in his costume. The body of it is mostly red. The super speeding hero was the star of the title until the spring of 1942. the title was then changed to be called Crime Does Not Pay.
Read More
Looking to sell your comic books?
Browse our selection of key issues from Silver Streak Comics below to get an instant estimate of their value.
We have been buying and selling for 20 years and have tons of experience working with sellers just like you!