Detective Comics #32
Published October 1939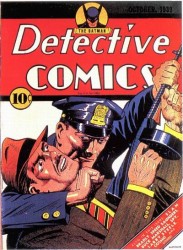 What's Detective Comics #32 worth in 2021?
In 2017 Detective Comics #32 graded NM+ 9.6 sold for almost $72,000. This remains the highest graded copy known and the record sale price. Previously a NM- 9.2 sold for $50,000 in 2014. The sales of these books are so rare because there just aren't any real numbers out there. less than 50 copies unrestored in the world! Even the lowest grades fetch thousands of dollars. In March of 2019 a G/VG 3.0 brought 4x what it brought in 2004, going from $900 to $4,000. Safe to say these early Batman appearances are pretty much a "sure thing" if you can get one.
Why is this comic book valuable?
Batman is packing heat! That's right, this is Detective Comics #32, the first time Batman uses a gun and the first time a costumed super hero used a gun in comic books. With these early Batman appearances there will always be a "first" something or other. At this point it's rarity and the newness of the character dictating prices. But you CAN still see that there are varying degrees of importance during this era. Looking at the value of the issue before this is a good way to help understand that all early issues are not created equal. Out of 48 unrestored issues registered with CGC Census only 10 are over VG/FN 5.0. Of those 10 only 2 are over a VF- 7.5. Rare indeed.
Price Guide Report
| GD 2.0 | VG 4.0 | FN 6.0 | VF 8.0 | NM 9.4 | RECORD SALE! |
| --- | --- | --- | --- | --- | --- |
| $1,925 | $4,375 | $3,500 | $9,550 | $50,025 | $71,700 |