Disclaimer:
When you click on link title "Check Live eBay Prices Here" on this site and make a purchase, this can result in this site earning a commission. Affiliate programs and affiliations include the eBay Partner Network. Check our Privacy Policy for more information.
Detective Comics #27
Published May 1939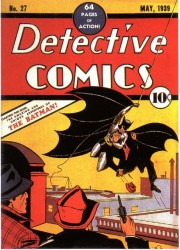 What's Detective Comics #27 worth in 2023?
The highest graded copy of Detective Comics #27 is a CGC NM- 9.2 and if it ever comes up for sale, the sale price will most likely exceed $3,000,000. In the meantime, the most expensive copy ever sold is a CGC VF 8.0 for $1.1 million back in 2010. The popularity of Batman is so high that even low grade unrestored copies will sell for $150,000 - $200,000. Copies in FN 6.0 currently sell for around $650,000 - $700,000. Basically, if you have a copy, back up the Brinks truck as this is the best comic in the hobby alongside Action Comics #1. If you're looking for a copy, be prepared to mortgage your house. Our recommendation is buy one if you can afford one - preferably unrestored.
Why is this comic book valuable?
The ultimate anti-hero, the Batman, makes his debut in Detective Comics #27. Even though he's not actually a superhero because he has no super abilities, Batman is generally considered the most popular super hero of all time! He has made appearances in TV, movies and cartoons over the years and his popularity is only increasing as time goes by.
Price Guide Report
| GD 2.0 | VG 4.0 | FN 6.0 | VF 8.0 | NM 9.4 | RECORD SALE! |
| --- | --- | --- | --- | --- | --- |
| $175,000 | $475,000 | $750,000 | $1,350,000 | $3,500,000 | $1,500,000 |