Disclaimer:
When you click on link title "Check Live eBay Prices Here" on this site and make a purchase, this can result in this site earning a commission. Affiliate programs and affiliations include the eBay Partner Network. Check our Privacy Policy for more information.
Defenders
Marvel // August 1972 - February 1986
Issue count: 152
In the tradition of The Avengers, Marvel introduced "supergroup" The Defenders in the 70's. A consistently enjoyable title, #10 is a key issue in the "Avengers/Defenders War" saga! This in-demand book has been selling for respectable prices!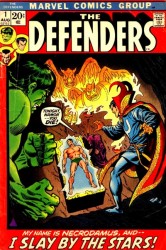 Riding the crest of the popular "Super-Team" genre, and to perhaps find a way of boosting characters in The Marvel Universe which had become marginalized, Marvel brought out The Defenders, maybe the most awkward teaming of heroes to gain their own book.
The Defenders made their proper debut in Marvel Feature #1 - #3, but the team actually came about by tying in a storyline from three different titles, Doctor Strange #183 (November 1969), Sub-Mariner #22 (February 1970), and The Incredible Hulk #126 (April 1970). With Dr. Strange cancelled, he needed a home, and it was decided by Roy Thomas that it would be beneficial to have these 3 seemingly-incompatible heroes in one book.
With the success of their tryout issues in Marvel feature, The Defenders own title was debuted in 1972, and included the three heroes named above as its principals. Steve Englehart and Sal Buscema were the creative team for the earlier issues, with Len Wein, a young Chris Claremont, and Steve Gerber all contributing to the writing duties as the series went on. ed hannigan took over the art after Sal's long stint, and then the book ended up in the capable hands of veteran Don Perlin for the rest of the run.
Marvel managed to keep the book selling respectably by rolling out new members - Valkyrie, Nighthawk, Son of Satan, Beast, Hellcat and Power Man - and featuring regular cameos - Hawkeye, Iron Man, The Avengers, The Guardians of the Galaxy, The Thing, The Squadron Supreme, and probably others that I am missing!
The Original series is considered to have ended in 1983, however, it was almost immediately re-booted with new characters that looked an awful lot like the old X-Men, with The Angel, Beast and Iceman among the new members.
The book limped on for about another year as The "New" Defenders, but the plug was finally pulled in 1984.
Issue #10 is particularly collectible for the Hulk/Thor battle, And the Avengers team-up!
Read More
Looking to sell your comic books?
Browse our selection of key issues from Defenders below to get an instant estimate of their value.
We have been buying and selling for 20 years and have tons of experience working with sellers just like you!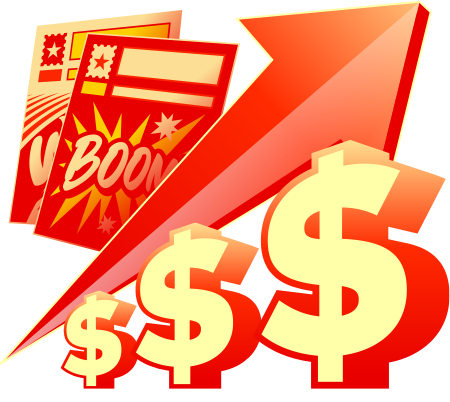 Issue #1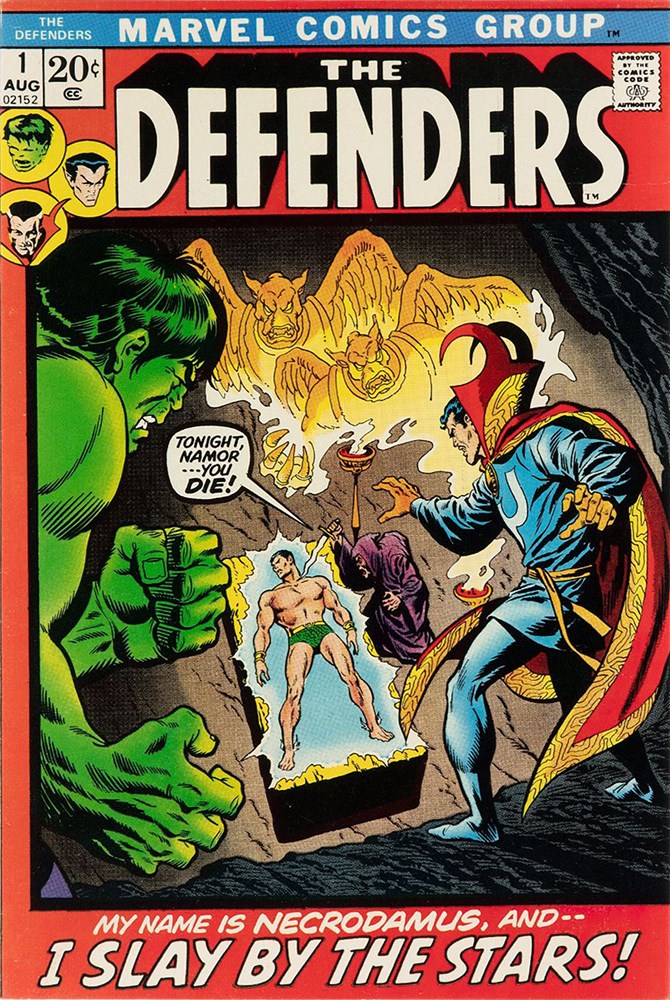 What's Defenders #1 worth in 2023?
Defender (1970) #1 has a top price of $18,277. This price was of an untouched 9.8 CGC in December 2021. A year later, the same issue went for 1/3rd the price of $5,880 in September 2022. A 9.0 went for $339 in March 2023 which is nearly the same as its 2018 price tag of $300. A mid grade 6.0 and a 4.5 graded issue went for $107 and $50 respectively in April 2023.
Why is this comic book valuable?
Thanks to The Defenders Series on Netflix, the interest in their comic book counterparts has piqued some curiosity, yet selling prices did not skyrocket much. A 9.8 mint/near mint condition copy today can sell for $1,452. For a more mid-lower grade copy, the value has gone up some since 2017. You could get an FN 6.0-grade copy in 2017 for $50. Today a copy of that caliber is worth $65. now. While, a grade of 3.0, which is considered good/very good condition, no flux at all has happened and to be valued at $27.00.
Price Guide Report
| GD 2.0 | VG 4.0 | FN 6.0 | VF 8.0 | NM 9.4 | RECORD SALE! |
| --- | --- | --- | --- | --- | --- |
| $25 | $40 | $107 | $178 | $693 | $18,277 |
Issue #10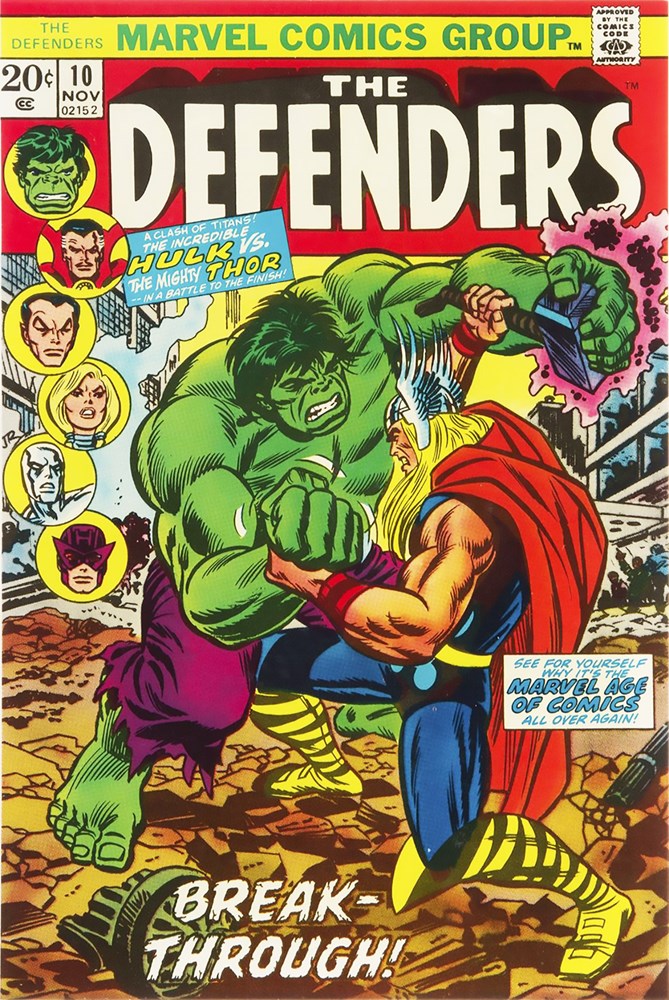 What's Defenders #10 worth in 2023?
The value for a mint condition or near mint condition has gone down over the years which may make those collectors who have been wanting to snag a copy for their collection happy. The highest ever 9.8 graded CGC went for $2,040 in November 2021. Recently, The same 9.8 grade went for $1,700 in July 2022. For a simple FN 6.0 condition copy, we have seen it go for $57, which more than what it was valued back in 2018. A VG 4.0 grade can be snatched for $30 as of January 2023. All according to CGC Census.
Why is this comic book valuable?
Defenders #10 marks the epic Hulk vs. Thor battle, which is featured on page 15 in 2 full-page panel glory. It also is a part of the Avengers/ Defenders crossover story where the story continues from the Avengers #117 issue where the Defenders and Avengers have their final clash. This issue also hosts a cameo by Dormammu and Asti at the end.
Price Guide Report
| GD 2.0 | VG 4.0 | FN 6.0 | VF 8.0 | NM 9.4 | RECORD SALE! |
| --- | --- | --- | --- | --- | --- |
| $10 | $30 | $57 | $81 | $255 | $2,040 |