World's Finest Comics Price Guide
DC Comics // Summer 1941 - January 1986
Issue count: 322
DC's enduring, long-running Superman-Batman team-up title! All the 1940's Golden-Age issues are getting harder to find, and demanding high prices! Examples of key issues and current values are searchable on Quality Comix's online price guide!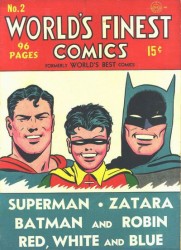 Continuing in the same vein as the one issue of World's Best Comics, which preceded World's Finest (DC renamed it), this huge quarterly-issued book featured Superman AND Batman as the main draw.
Initially, characters Zatara, The Crimson Avenger and Johnny Thunder were co-features (and later, The Green Arrow) But, over the years, it became almost exclusively a "team-up" vehicle for Superman and Batman, fighting together.
There are many valuable key issues in this long run (see below), but the earlier ones get the Big Bucks! Check your own collection for some of these treasures!
If you've got a World Finest Comics issue and you'd like a valuation, our comic book experts can provide a FREE appraisal. Get in touch today.
Read More
Looking to sell your comic books?
Browse our selection of key issues from World's Finest Comics Price Guide below to get an instant estimate of their value.
We have been buying and selling for 20 years and have tons of experience working with sellers just like you!