Disclaimer:
When you click on link title "Check Live eBay Prices Here" on this site and make a purchase, this can result in this site earning a commission. Affiliate programs and affiliations include the eBay Partner Network. Check our Privacy Policy for more information.
Wow Comics
Fawcett // December 1940- August 1948
Issue count: 69
Wow Comics feature the appearance of Pre DC comic book characters which are now sought by many modern day DC fans and collectors out there.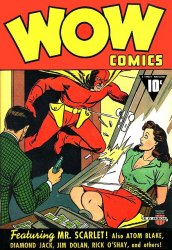 Wow Comics was a Golden age comic book series that was published by Fawcett Comics in 1940s to 1948. This series ran a total of 69 issues with had the artwork of legendary artists such as Otto Binder, CC Beck, Dave Berg, and The Infamous Jack Kirby. Wow Comics used to feature the solo adventures of Mary Marvel along side Mr. Scarlet, Commando Yank, and Phantom Eagle. The issues of this series also mention the Dark Knight's dark and gritty hometown; The Gotham City. Later on after 69th issue, Wow Comics evolved into a Western format comic and was retitled as Real Hero Western. Fawcett was later on aquired by the DC Comics which means the rights to these charaters are now owned by DC.
Read More
Looking to sell your comic books?
Browse our selection of key issues from Wow Comics below to get an instant estimate of their value.
We have been buying and selling for 20 years and have tons of experience working with sellers just like you!