Wonder Woman
DC Comics // Summer 1942 - February 1986
Issue count: 329
A fan favorite, DC decided to give WONDER WOMAN her own book in 1940. The series took a brief left turn in the late 60's when WW gave up her powers, and the book changed it's name to "Diana Prince : Wonder Woman." 1940's issues are top collectors items!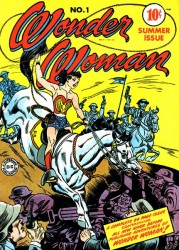 As was DC's general business plan in the 1940's, they would first introduce a new character in an anthology book, featuring that hero as the lead and cover story (usually only a single story, though). In Wonder Woman's case, the particular Title was Sensation Comics.
If a character proved popular and saleable, DC would promptly roll out a giant, 68 page book, to be issued quarterly, featuring ONLY stories with that character!
Thus, Wonder Woman Comics debuted in her own such title in 1942.
America had just entered the war -y'know, the BIG one, WWII - and the time seemed optimum for a comic portraying an axis-butt-kicking strong woman!
WW is so engrained in the consiousness of Americans, that the character has endured, albeit in many different versions, for close to 80 years, and is still a going concern today!
Those early Sensation and Wonder Woman comics are now worth a fortune - hopefully you have some stashed away, forgotten long ago, and are waiting for you to find them!
Quality Comix is always joyfully willing to appraise them for you!
Read More
Looking to sell your comic books?
Browse our selection of key issues from Wonder Woman below to get an instant estimate of their value.
We have been buying and selling for 20 years and have tons of experience working with sellers just like you!