Disclaimer:
When you click on link title "Check Live eBay Prices Here" on this site and make a purchase, this can result in this site earning a commission. Affiliate programs and affiliations include the eBay Partner Network. Check our Privacy Policy for more information.
World Of Fantasy
Atlas // May 1956 - August 1959
Issue count: 19
Right on verge of Atlas becoming Marvel Comics, you can really see where they were headed with 1956's World of Fantasy! Excellent "proto-Marvel" stuff very sought out by collectors! See what they are going for here!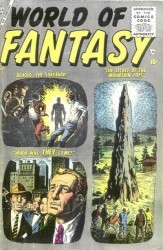 It took a little bit of time for Atlas Comics (formerly Timely Comics) to find their footing in the 1950's as far as the creative direction in which they wanted the company to go.

Martin Goodman's Timely Comics had, by 1949, ceased publication of almost all of it's superhero books that had brought it such good fortune from 1939 through the end of the Second World War. Captain America, the Human Torch and The Sub-Mariner were fading from public consciousness, and the whole comic book business was turned on its head; it seems America did not need heroes in their comics, they had them in their homes in the men and women that had come back after the big war…

One may think that tastes would have veered towards the more fanciful and humorous, for the country had had enough of the death and dying. But no - the flavor of the day was moving towards the darker subjects of everyday criminals, monsters, and unexplained phenomenon. Perhaps this turnabout in content could be explained as simply being a reflection of the collective national fatigue of war, and the uncertainty and paranoia of facing a future in a post-atomic-bomb world.

Monsters of unknown origin, scenarios of invasions from alien beings resonated more as the threat of global communist-domination was repeatedly heralded in the daily news.

Not that Atlas did not assume the stance that most publishers did by dabbling in all sorts of popular genres, with varying success; they did have several romance titles as well as western, war, jungle, true crime, science fiction, teenage and humor titles. But, in late 1951, when the Atlas logo started gracing the covers of books that would have previously bore the Marvel or Timely brand, their main area of excellence was their suspense/supernatural/horror titles.

Between 1950 and 1952 Timely brought out several titles that would ensure their legacy, and transition them into what would be known as the "Marvel Age of Comics." Such titles included Adventures Into Terror, Astonishing, Uncanny Tales, Mystic, Mystery Tales, Marvel Tales, and two titles that would figure heavily in the introduction of major best selling characters in the early 60's : Strange Tales and Journey into Mystery.

As the 50's went on, Atlas was starting to look a whole lot like the blockbuster that would be Marvel comics beginning in the early 1960s.

And World of Fantasy was a major transitional title for Atlas. Debuting in 1956, and running for 19 issues, until August of 1959. It premiered around the same time as now-legendary titles Tales To Astonish, Amazing (Adult) Fantasy and Tales of Suspense, and unsurprisingly, employed several of the name artists that would bring Marvel to heights of greatness within a few short years.
As the issues went by you started to see more of the names of those that would be key players in Marvel's imminent and overwhelming popularity - folks like Steve Ditko, Jack Kirby, Don Heck, Dick Ayers, Vince Colletta, Gene Colan, Joe Sinnott, Werner Roth, Jim Mooney, Don Perlin, Joe Orlando, John Severin, Ross Andru, George Roussos (Bell), all contributed to World of Fantasy.

Unfortunately, World of Fantasy didn't stick around long enough to introduce a Thor, a Spider-Man, an Ant-Man, or an Iron Man like its contemporaries, but it does represent a time when Stan Lee, along with his brother Larry Leiber, started to take the bull more by the horns, and unleash their imaginations to the degree that changed comic books forever…

Check out what prices issues of late-Atlas/early-Marvel curio World Of Fantasy are fetching on the collectors market…
Read More
Looking to sell your comic books?
Browse our selection of key issues from World Of Fantasy below to get an instant estimate of their value.
We have been buying and selling for 20 years and have tons of experience working with sellers just like you!