Disclaimer:
When you click on link title "Check Live eBay Prices Here" on this site and make a purchase, this can result in this site earning a commission. Affiliate programs and affiliations include the eBay Partner Network. Check our Privacy Policy for more information.
Wonder Comics
Pines // May 1944 - October 1948
Issue count: 20
Wonder Comics being a Golden Age War comic book series is very hard to find on the comic book markets regardless of the history and legacy this series has. Wonder Comics rarely appears on the market and is sought out by many collectors out there.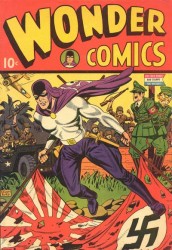 Wonder Comics was first published in 1944 by Better Publications. This Golden Age series had 20 issues featuring the thrilling and exciting adventures of Grim Reaper fighting the Nazis on the Battlefield. The artwork for the Wonder Comics was designed by the the legend Alex Schomburg who is very well known for his World War II artwork. Even today, Alex Schomburg is loved by many Golden Age Collectors out there and is also featured as one of the most important comic book cover artists of the Golden Age.
Read More
Looking to sell your comic books?
Browse our selection of key issues from Wonder Comics below to get an instant estimate of their value.
We have been buying and selling for 20 years and have tons of experience working with sellers just like you!