Thor Comic Book Price Guide
Marvel // March 1966 - September 1996
Issue count: 377
Long considered Marvel's "Marquee" title, it's dynamic storytelling and art make THOR a collectible favorite, with many key issues selling for high prices! Click the title and follow current market value!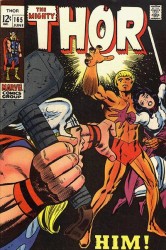 After the success of the re-launch of the superhero genre with the Fantastic Four, Spider-Man, etc., THOR debuted in Journey Into Mystery issue #83 in August of 1962, but it was in Journey into Mystery that he first came into prominence, with a whole universe being created around Thor, whose earthly guise was partially lame Dr. Donald Blake, and would be established as a "God on Earth" - a popular and recurring Marvel theme - with many elements from Norse mythology being prominent, and many supporting characters being drawn from that well.
It was in the pages of Journey where we first saw his mythical homeland, Asgard, encountered Loki - Thor's brother and arch nemesis - and father Odin (among many others).Thor's father Odin decides his son needed to be taught humility and consequently places Thor (without memories of godhood) into the body and memories of an existing, partially disabled human medical student, Donald Blake. After becoming a doctor, Blake witnesses the arrival of an alien scouting party while he is on vacation in Norway. Blake flees from the aliens into a cave. After discovering Thor's hammer Mjolnir (disguised as a walking stick) and striking it against a rock, he transforms into the thunder god!
And of course it woudln't be Marvel if your main character was not subject to many personal conflicts, like Don Blake's ongoing tentative relationship with nurse Jane Foster. Additionally, Thor would encounter many Earth-bound baddies, such as Radioactive Man, Lava Man, Mister Hyde, The Cobra, Grey Gargoyle, Absorbing Man... and also epic encounters with Hulk and Hercules!
Thor would be the main attraction for the duration of Journey Into Mystery's life (issue #125, February 1966), at which point he would immediately go on to have his own long-running title, continuing with the numbering from Journey, issue #126 would be the first issue under his own name.
There would be many interesting plotlines in the late 60's - mid 70's. Falling in love with Jane Foster, Thor disobeys his father and refuses to return to Asgard, an act for which he is punished on several occasions. Thor's natural affinity for Earth is eventually revealed to be due to the fact that he was the son of the Elder Goddess Gaea. Although Thor initially regards himself as a "superhero" like his teammates in the Avengers, Loki's machinations draw Thor into increasingly epic adventures, such as teaming with his father Odin and Asgardian ally Balder against the fire demon Surtur and Skagg the Storm Giant, and defeating an increasingly powerful Absorbing Man and proving his innocence in the "Trial of the Gods"
Being the exclusive property of creative team Stan Lee and Jack Kirby, which was admittedly one of their favorite books to work on, Kirby would remain on the book until 1970, with issue #179 being his last. The ever-faithful John Buscema would step in, and, for the most part, become the primary artist through issue #278, dated December 1978.
Lee would continue as writer through issue #192 (September 1971), at which point Gerry Conway became the main scribe.
The book would continue until 1996, going through many different writers and artists - including a memorable, critically acclaimed run by Walt Simonson - but for the most part the 60's and early Bronze-Age issues are demanding the higher prices amongst collectors.
Do you own a rare issue or collection of Thor comic books? Get a free appraisal of your collection and sell your comics to us.
Read More
Looking to sell your comic books?
Browse our selection of key issues from Thor Comic Book Price Guide below to get an instant estimate of their value.
We have been buying and selling for 20 years and have tons of experience working with sellers just like you!