Disclaimer:
When you click on link title "Check Live eBay Prices Here" on this site and make a purchase, this can result in this site earning a commission. Affiliate programs and affiliations include the eBay Partner Network. Check our Privacy Policy for more information.
Thrilling Comics
Thrilling Comics had a pretty successful run as it had a total of 80 issues. This series also featured the first appearances of many modern day comic book characters by DC Comics.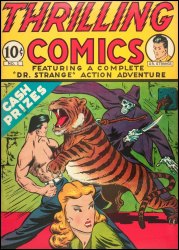 Thrilling Comics is a Golden Age comic book series that was published by Standard Comics. This series had one of the longest runs by the published that had around a total 80 issues from the 1940 to 1951. Thrilling Comics featured the first appearance of Doc Strange Also Known as Hugo Strange. Years later, the titles "Thrilling Comics" was reused in 1999 by DC Comics in Justice Society Returns Storyline.
Read More
Looking to sell your comic books?
Browse our selection of key issues from Thrilling Comics below to get an instant estimate of their value.
We have been buying and selling for 20 years and have tons of experience working with sellers just like you!