Tales Of Suspense
Marvel // January 1959 - March 1968
Issue count: 99
Originally a monster/horror series, Marvel introduced IRON MAN in issue #39! Riding the popularity of their other hero titles, these early issues continue to be collector faves! See what these are currently selling for on our price guide...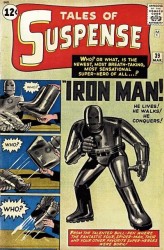 Tales Of Suspense comics hit the stands very shortly before Marvel would do an about face and turn away from the popular sci-fi/monster genre and re-invent the superhero genre, bringing costumed do-gooders to dizzying new creative and financial heights.
Suspense was very much a monster/sci-fi book for its first 38 issues (and a very well-done one at that!). The change came about in 1961 after Marvel was finding it was having more and more success with it's new Superhero titles : Fantastic Four and Spider-Man. The scramble was on to get more hero titles out there, and that meant changing the format of some of their existing books, Tales of Suspense was one of the beneficiaries.
This major change came about in issue #39, when Supense introduced a huge new character: IRON MAN!
An egomaniacal, high-livin' playboy, genius weapons engineer/ millionaire Tony Stark is injured while being kidnapped by "the communists", purportedly to have Stark build them a weapon of mass destruction. He, instead, attempts to save his own life by building a suit of armor that both keeps the shrapnel embedded in his chest from becoming fatal, and allows him to overcome his captors with an arsenal of built-in weapons...Smart guy, right?
Well, it turns out that Stark has to live the rest of his life with his "chest plate" in order to keep from kicking the bucket. So he does what every other millionaire-playboy would do, he refines his armor and it's weapons and decides to become a super do-gooder! Stark then tells everyone he knows that Iron Man is his "bodyguard," so that his frequent appearances did not arouse suspicion - and it worked!
A myriad of iconoclastic villains that would be recurring characters - not just in Iron Man Stories - would be introduced : The Mandarin, The Melter, Crimson Dynamo, Titanium Man, The Black Widow, the Unicorn, Hawkeye (originally a bad guy),The Black Knight (resurrected as a bad guy, too), Ultimo, Crusher, Whiplash…
As the series progressed, and Iron Man, now the lead feature, and the cover star, became a hit, Marvel would phase out the monster/suspense co-features and elect to co-feature another hero...
In the early 60's, it was virtually a no-brainer for Marvel in 1964 to bring back the hero that defined the company more than twenty years before : CAPTAIN AMERICA!
Turns out Cap was frozen in "suspended animation" since the late forties when in the process of pursuing a bad guy (turns out it was ZEMO!), he was plunged into the icy water and frozen - only the Super Soldier Serum coursing through his veins kept him alive within the block of ice - to be found by The Sub Mariner, and then the Avengers who proceeded to defrost him (see Avengers #4).
Of course he was kept from aging, and this "man out of time" became a member of The Avengers right away.
Flash forward to only a matter of months when Captain America was given his own solo spot as the co-feature in Tales of Suspense. There, we saw Steve Rogers struggling with this modern world, and haunted by the death of his 1940's partner Bucky Barnes, for which he felt responsible. And then the title gave us a real treat by running a number of stories based in WWII, with Cap and Bucky twarting the Nazi's and in particular their arch nemesis, THE RED SKULL.
The added treat is that most of Cap's Tales of Suspense entries were drawn by the man who co-created and originally drew him in the 40's, Jack Kirby. These are all fantastic, dramatically told issues.
In 1968 Marvel would do away with their titles that shared 2 characters in one book, and both Iron Man and Captain America graduated to their own full-length comic books.
All of the pre-hero books remain very collectible, demanding respectable prices, but the early Iron Man Issues are very sought after - especially the issues that introduce new characters, and the same applies with the early Cap appearances.
Do you think you might own a valuable Tales of Suspense issue? Would you like to get it appraised? Our comic book experts have a wealth of experience when it comes to valuing comic books. Get your FREE comic book appraisal today. Alternatively, check out our Tales of Suspense price guides by issue below to get an instant ballpark figure
Read More
Looking to sell your comic books?
Browse our selection of key issues from Tales Of Suspense below to get an instant estimate of their value.
We have been buying and selling for 20 years and have tons of experience working with sellers just like you!