Superboy Comics Price Guide
DC Comics // March-April 1949 - August 1977
Issue count: 230
Superboy proved to be so popular that DC gave him his own title in 1949. Always a good bit of fun, key issues gave us 1st appearances of BIZARRO, SHAR-LA, PETE ROSS & MON-EL! Yours may be worth money - see the price guide!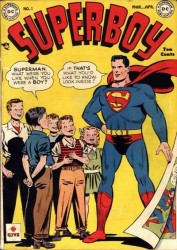 For DC, the popularity of Superman in the 40's was so great that we started seeing a steady trickle of titles dedicated to his supporting characters hit the stands.
Not that SUPERBOY technically fits into this mold - he was, afterall, STILL Superman, just as a boy.
This series centered around his teenage years, growing up in Smallville and living the lives and loves of any other teen, but with the added burden of being very different from his peers!
An array of colorful conflicts and villains constantly entered young Clark Kent's life, and he eventually met and became the defacto-leader of The Legion of Super Heroes within these pages. The Superboy comic became very popular, and managed to survive the superhero drought of the 50's only to become more saleable in the following decades!
As per usual, the earlier stuff you have is the more valuable, and remains a comer in collector's circles!
Do you own a rare issue of Superboy? Get a FREE appraisal of your SuperBoy issue today to find out its true value.
Read More
Looking to sell your comic books?
Browse our selection of key issues from Superboy Comics Price Guide below to get an instant estimate of their value.
We have been buying and selling for 20 years and have tons of experience working with sellers just like you!