Disclaimer:
When you click on link title "Check Live eBay Prices Here" on this site and make a purchase, this can result in this site earning a commission. Affiliate programs and affiliations include the eBay Partner Network. Check our Privacy Policy for more information.
Superman's Girl Friend, Lois Lane
DC Comics // March 1958 - October 1974
Issue count: 137
Superman was SO bankable for DC, that they started giving supporting characters their own titles, LOIS LANE among them. The earlier issues hold the most value, plus the infamous "blackface" issue #106, considered a major faux-pas from DC!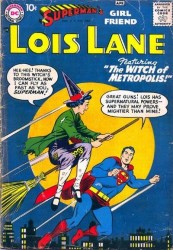 Riding on the crest of the big-guy, and perhaps an attempt to inject some levity into the Superman universe, Lois Lane, reliable co-worker of Clark Kent, and main love interest of Superman, was given her own book in 1958.
She had a more complicated life than you think, encountering all sorts of weirdies and always getting herself into danger! Superman makes frequent appearances as a way of adding more saleabilty to a tentative title, at best.
The key issue, though, is the extremely controversial "blackface" issue#106. Very collectible. The less said about it the best...
Read More
Looking to sell your comic books?
Browse our selection of key issues from Superman's Girl Friend, Lois Lane below to get an instant estimate of their value.
We have been buying and selling for 20 years and have tons of experience working with sellers just like you!