Disclaimer:
When you click on link title "Check Live eBay Prices Here" on this site and make a purchase, this can result in this site earning a commission. Affiliate programs and affiliations include the eBay Partner Network. Check our Privacy Policy for more information.
Super-Mystery Comics
Ace Magazines // July 1940 - July 1949
Issue count: 48
Ace Magzines completely nailed the concept of a multi niche comic book series which made this comic book what it is today. Super Mystery Comics has a huge fan following because of its age and the multiple niches it caters to.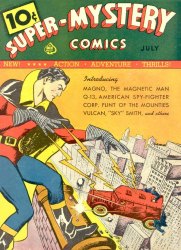 Ace Magzines published Super Mystery Comics from July 1940 to July 1949. For the Span of nine years Ace never had a consistent publishing time span nether they had a specific genre. They featured a multitude of generes whether it be superheroes, horror, war, mystery, and even humor in their comic books.
Even tho this series was named "Super Mystery", This series featured multiple first appearance of various superheroes like Magno, and Magnetic man which makes it feel more like a superhero series as compared to the Horror and Mystery Vibe that its covers usually had. Later on, The series also featured characters such as Bert, Sue, Mack Martin and the Unknown which had a terrifying and mysterious vibe to them as compared to the characters in the earlier issues.
Read More
Looking to sell your comic books?
Browse our selection of key issues from Super-Mystery Comics below to get an instant estimate of their value.
We have been buying and selling for 20 years and have tons of experience working with sellers just like you!