Disclaimer:
When you click on link title "Check Live eBay Prices Here" on this site and make a purchase, this can result in this site earning a commission. Affiliate programs and affiliations include the eBay Partner Network. Check our Privacy Policy for more information.
Sub-Mariner
Marvel // May 1968 - September 1974
Issue count: 72
Sub Mariner is Marvel's longest running anti-hero, created in 1939 and revived many times. This title started in 1968 and remains a fan fave, with key issues going for top dollar! He battles TIGER SHARK, THE HULK, THE THING, and humankind in general!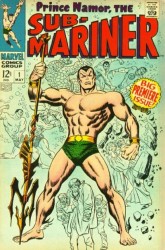 Prince Namor, THE SUB-MARINER, created by Bill Everett in 1939, debuted in Marvel Comics #1 from that same year, and he has never really gone away...well, not for long anyway…
His personality was fully formed from the get-go; a fiery-tempered, super-strengthed, half human/half Atlantean that could exist in and out of water - with a serious beef against humanity, whom he blamed for the destruction of his undersea kingdom. He would quite often wreak havoc on humans just to mess with them, and was a generally surly presence when forced to interact with the surface people. He did however have some sense of morality, which puts him in the "anti-hero" category.
When WWII came along, he was quite content to beat up on the Nazis and then the Japanese, and indeed, Timely (Marvel) did tone down his anger significantly during this period - he had actual human friends, and could be charismatic and even humorous at times!
His Golden-Age books and appearances disappeared when heroes comics went out of vogue in the late 40's. Yet, he would enjoy a brief revival in the early to mid 50's when Marvel (now under the mantle of Atlas) unsuccessfully attempted to bring back the superhero-genre. It didn't last long, but it did give us a new mild-mannered form of Subby, as well as some of creator Bill Everett's best work.
He dropped out of sight for the longest period here, 7 years, until 1962 in Fantastic Four #4, when he was resurrected after Johnny Storm found him in a down and out Bowery flophouse, bearded, and suffering from amnesia. All it took was for Johnny (the "new" Human Torch) to drop him into the ocean for him to regain his memory - and suddenly, returning to the initial character concept, the original bitter, arrogant, human-hating Sub-Mariner was back!
From here, he made great trade by appearing in the books of, and subsequently coming up against and doing battle with, virtually every hero in the Marvel canon! They just could not get rid of this pest!
Eventually he wound up co-featured in Tales To Astonish, beginning with issue #70, and resided there until the cancellation of that title.
It's here where we come to 1968, when Marvel decided to give Sub-Mariner his own full-time title. This series, more than others before, seems to concentrate on Namor's life below the surface of the water, where issues dealing with his role as monarch, and family come to the fore.
This series, which ran 72 issues up to 1974, was written largely by Roy Thomas, followed by Steve Gerber, Marv Wolfman and Steve Skeates. Ever faithful John Buscema drew lots of issues, followed by Marie Severin, and, most interestingly creator Bill Everett came back to finish his career where it started (issue #61 was his last work before his death), then silver-age staple Don Heck took over for most of the duration.
Very collectible issues include issue #5, which introduces Tiger Shark; #8 and #34, in which Subby fights the Thing and The Hulk respectively, and issue #50, the anniversary issue written, pencilled, inked and colored by the one and only Bill Everett!
Read More
Looking to sell your comic books?
Browse our selection of key issues from Sub-Mariner below to get an instant estimate of their value.
We have been buying and selling for 20 years and have tons of experience working with sellers just like you!