Disclaimer:
When you click on link title "Check Live eBay Prices Here" on this site and make a purchase, this can result in this site earning a commission. Affiliate programs and affiliations include the eBay Partner Network. Check our Privacy Policy for more information.
Sub-Mariner Comics
Timely // Spring 1941 - June 1949
Issue count: 32
Sub-Mariner Comics was another huge hit for Timely! He started out hating ALL of humanity...until the Nazi's came along, then they became his prime target (thank goodness!). Many issues contain backup stories of THE ANGEL. All worth money!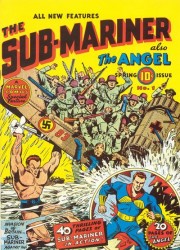 Prince Namor, THE SUB-MARINER, created by Bill Everett, who had invented the character in 1939 while working out of LLoyd Jacquet's Funnies Inc. Studio. Jacquet had some material by staffers from a failed venture to sell giveaway comics to movie houses and theaters called Motion Pictures Funnies Weekly - this comic is a legend among collectors because only a handful of "test" copies were produced. Bill Everett's first Sub-Mariner story was one of the prospective strips to be featured.
Enter Martin Goodman and his new venture : Marvel Comics. Acquiring some of this leftover material, and some of his staff, truth be told, including Bill Everett (although he was not under exclusive contract with Timely, and did a number of jobs for other companies at the same time), and The Sub-Mariner character.
The Sub-Mariner debuted in Marvel Comics #1, dated November 1939, and he was so popular right out-of-the-gate, that Goodman, Everett and editor Joe Simon started to plan on capitalizing on his fame by giving The Sub-Mariner his own giant-sized quarterly comic book.
Prince Namor's personality was fully formed from the get-go; a fiery-tempered, super-strengthed, half human/half Atlantean that could exist in and out of water - with a serious beef against humanity, whom he blamed for the destruction of his undersea kingdom. He would quite often wreak havoc on humans just to mess with them, and was a generally surly presence when forced to interact with the surface people. He did however have some sense of morality, which puts him in the "anti-hero" category.
By the time Sub-Mariner Comics #1 hit the stands in March of 1941, it was inevitable that America would eventually enter the war in Europe and the Pacific, and the first issue boasted a classic Alex Schomburg cover with Subby lifting a german battleship out of the water, dumping a bunch of nazi's into the sea. Striking stuff! Through the war years, Sub-Mariner was content to turn his rage against the Germans and the Japanese, and indeed, Timely (Marvel) did tone down his anger towards American surface-dwellers significantly during this period - he had actual human friends, and could be charismatic and even humorous at times!
The 68-page book, whose cover pronounced loudly "40 Thrilling Pages Of Sub-Mariner In Action," co-featured another known commodity from Marvel Mystery Comics - Paul Gustavson's The Angel.
Already having a good deal of Subby stories under his belt from Marvel Mystery Comics, issue #4 (Winter 1941) of Sub-Mariner's own title would be the last to include Everett's involvement due to him being drafted into the Armed forces. Al Gabriele and Carl Pfeufer would be the appointed artists for most of the rest of the original 40's run (and would give Namor an increasingly grotesque triangular head!), with Everett doing a few stories after he was discharged.
Similarly, Gustavson would also be drafted, and the Angel co-feature would pass through many hands, most notably a very young Carmine Infantino, who would illustrate many Angel stories before moving to DC/National, to whom he would be closely associated for many decades to come.
Everything would come to a grinding halt at the end of the 40's when superheroes went out of vogue, and the last issue of the original run of Sub-Mariner Comics would be issue #32, in July of 1949.
All of the 40's issues are valuable - but the early ones with the exquisite Alex Schomburg covers are the priciest on the collector's market!
Read More
Looking to sell your comic books?
Browse our selection of key issues from Sub-Mariner Comics below to get an instant estimate of their value.
We have been buying and selling for 20 years and have tons of experience working with sellers just like you!