Disclaimer:
When you click on link title "Check Live eBay Prices Here" on this site and make a purchase, this can result in this site earning a commission. Affiliate programs and affiliations include the eBay Partner Network. Check our Privacy Policy for more information.
Strange Worlds
Avon // November 1950 - November 1952; October-November 1954 - September-October 1955
Issue count: 14
Strange Worlds had a pretty successful run with a total of 15 issues. Even Today, the beautiful artwork of Strange Worlds is admired by huge number of comic books fans out there.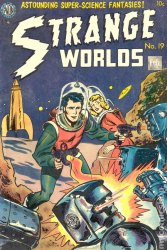 Published by Avon Comics, Strange Worlds is an American Golden Age Science Fiction Comic book series. This series ran for a total of 15 issues from November 1950 to September 1955. This series basically ran in two sequences: Issue #1-10 were published from November 1950 to November 1952. Later in the second sequence, Avon decided to skip this issue #11-17 and start again with #18 which ran through the issue #22. Despite the fact that Avon was not a big publisher compared to the other publishers out there, they still featured the artworks of the top tallets such as Wally Wood and Joe Kubert who later on went to become Comic book art legends.
Read More
Looking to sell your comic books?
Browse our selection of key issues from Strange Worlds below to get an instant estimate of their value.
We have been buying and selling for 20 years and have tons of experience working with sellers just like you!