Strange Tales
Marvel // June 1951 - May 1968
Issue count: 168
Beginning life as a horror title in Marvel's "Atlas" period, Strange Tales became the home for solo HUMAN TORCH stories, then introduced DOCTOR STRANGE and NICK FURY! Both incarnations are very valuable! Click the title to see...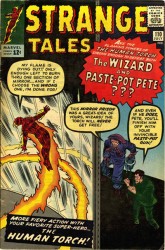 Strange Tales was another title which followed a similar arc to titles such as Journey Into Mystery. It went through several format changes throughout its long run.
Beginning in 1951 after Timely Comics had given up it's superhero titles which made them popular in the 1940's, and had transitioned to the mantle of Atlas Comics, Strange Tales was initially a suspense/horror title. This was pre-comics code, and this book was filled with more than its share of gruesome images!
Many creative holdovers from the Timely era contributed to the book (Carl Burgos, Bill Everett, Syd Shores), along with many future and established superstars (Pete Morisi, Manny Stallman, Russ Heath, Joe Maneely, Reed Crandall, Gray Morrow).
Later, around issue #70 or so (1959), in the lead up to the revival of Marvel Comics, the book became a sci-fi/monster comic, with many members of the famous "bullpen," (Larry Lieber, Joe Sinnott, Jack Kirby, Steve Ditko, Dick Ayers, Don Heck - and of course Stan Lee) gradually started finding more and more work in Strange Tales' pages.
Shortly, after superheroes started to infiltrate the lexicon of comicdom again, thanks in large part to Marvel Comics, Strange Tales would transition once again.
The popularity of The Fantastic Four was so great, that Marvel decided to branch out and give individual members their own features. Thus with Strange Tales # 101 the HUMAN TORCH was given his own solo shot as the lead story.
This proved to be a good move, and, very quietly, in issue #110 another hero was introduced - this one was not like anything ever seen in comics; DOCTOR STRANGE: Master of The Mystic Arts! Essentially a creation from the fertile mind of Steve Ditko (though Stan Lee was credited with writing and/or co-plotting), the world of Stephen Strange looked unlike anything else, thanks to Ditko's deft hand, and the dimensions and characters he encountered were both chilling and thrilling! It took several issues for Doc to catch on, but he soon became a key figure in the Marvel legend…
Feeling like Marvel didn't know what more they could do with the Human Torch solo series, they attempted to bolster it by adding THE THING for him to team up with beginning with issue #124.
This backfired on the basis of fans being content with seeing Johnny Storm and Ben Grimm in the Fantastic Four book. So they were gone with issue #135, giving way to the introduction of a new incarnation of a beloved favorite : NICK FURY, Agent of S.H.I.E.L.D. Now, we knew Nick from his WWII days, but here, perhaps informed by the "spy" craze (James Bond, Man From U.N.C.L.E., etc.), this was a contemporary Nick Fury, now leading a technologically sophisticated organization of spy-smashers against the evil collaborative HYDRA!
Both Fury and Dr. Strange would share Strange Tales until the end of its run with issue #168, dated May,1968.
The early pre-code horror stuff has skyrocketed in prices, as well as those featuring introductions of key characters during the hero-era!
Do you own a rare issue of Strange Tales? Get a FREE appraisal of your Strange Tales comic issue today to find out its true value.
Read More
Looking to sell your comic books?
Browse our selection of key issues from Strange Tales below to get an instant estimate of their value.
We have been buying and selling for 20 years and have tons of experience working with sellers just like you!