Disclaimer:
When you click on link title "Check Live eBay Prices Here" on this site and make a purchase, this can result in this site earning a commission. Affiliate programs and affiliations include the eBay Partner Network. Check our Privacy Policy for more information.
Strange Tales of the Unusual
Atlas // December 1955 - August 1957
Issue count: 11
You could always expect a high-quality product from Atlas in the 50's before they became Marvel. Horror was their niche, and Strange Tales O.T.U. often used the same creative teams that would make Marvel legendary! Grab 'em up if you see them!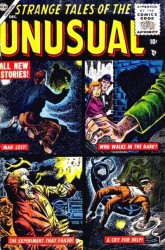 It took a little bit of time for Atlas Comics (formerly Timely Comics, later Marvel Comics) to find their footing in the 1950's as far as the creative direction in which they wanted the company to go.
Martin Goodman's Timely Comics had, by 1949, ceased publication of almost all of it's superhero books that had brought it such good fortune from 1939 through the end of the Second World War. Captain America, the Human Torch and The Sub-Mariner were fading from public consciousness, and the whole comic book business was turned on its head; it seems America did not need heroes in their comics, they had them in their homes in the men and women that had come back after the big war…
One may think that tastes would have veered towards the more fanciful, for the country had had enough of the death and dying. But no - the flavor of the day was moving towards the darker subjects of everyday criminals, monsters, and unexplained phenomenon.
Perhaps this turnabout in content could be explained as simply being a reflection of the collective national fatigue of war, and the uncertainty and paranoia of facing a future in a post-atomic-bomb world.
Monsters of unexplained origin, scenarios of invasions from alien beings resonated more as the threat of global communist-domination was repeatedly heralded in the daily news.
In December of 1955, Atlas offered up Strange Tales Of The Unusual - and this particular title most effectively captured the Cold-War consciousness so present in everyday American life. Stan Lee, who wrote and edited most of this title, had his pulse on the pervading mood of the public, and this is the Atlas title that was clearly, but allegorically, getting its point across in the fantasy/supernatural idiom.
The eleven issues between December of 1955 and August of 1957 were replete with stories reflecting a general mania and panic. Dominant themes were ones of fear of the unknown, "who is around the corner? Aliens? Invaders? Killers? Communists?" Paranoid visions of the world after the unfathomable nuclear apocalypse, shrinking men, invisible men, menacing statues, science losing control with disastrous laboratory experiments...get it? It was a very cold war indeed.
All sorts of contributions from past and future Marvel greats made up the bulk of this title - Carl Burgos (The Human Torch), John Romita (to many the definitive Spider-Man artist), Don Heck (Iron Man, The Avengers), Bill Everett (The Sub Mariner, Dr. Strange), Ross Andru and Mike Esposito (a team that enjoyed a long run on Amazing Spider-Man in the 70's), Dick Ayers (frequent Jack Kirby inker, and for some the definitive Sgt. Fury artist), Jack Abel (who would assist on various art, inking and editing assignments), Steve Ditko (Spider-Man, Dr. Strange would be nowhere without this visionary), Gene Colan (Iron Man, longtime Daredevil artist who had a good run on Capt. America, too), Marie Severin (Incredible Hulk, Dr. Strange), Jack Kirby (just about every damn 1960's Marvel superhero book; a giant), George Roussos (a veteran illustrator in his own right who would enjoy a career boost inking Jack Kirby on The Avengers, Fantastic Four, and The Hulk - often under the pseudonym George Bell), John Severin (took over Sgt. Fury, and stayed on that book for several years.) Timely/Atlas/Marvel had very devoted staffers.
Anyway, if you can find any of the 11 issues of Strange Tales Of The Unusual, there is a good chance that they are worth some money - but just as important, it's a pretty cool read, also!
Read More
Looking to sell your comic books?
Browse our selection of key issues from Strange Tales of the Unusual below to get an instant estimate of their value.
We have been buying and selling for 20 years and have tons of experience working with sellers just like you!