Disclaimer:
When you click on link title "Check Live eBay Prices Here" on this site and make a purchase, this can result in this site earning a commission. Affiliate programs and affiliations include the eBay Partner Network. Check our Privacy Policy for more information.
Seven Seas Comics
Iger // April 1946 - 1947
Issue count: 6
Seven Seas Comics notoriously featured overtly gratuitous renderings of sexy gals, and is considered a "Good Girl" book. The Iger Studio offered 6 issues of this most wanted title! See what prices they are fetching using our online price guide!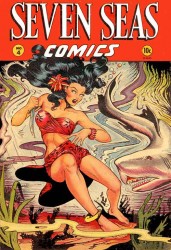 Once upon a time in 1930's America (New York, to be precise), two very young, very broke cartoonists had an idea; what if they pooled together all of their other broke artist and writer friends, and opened a "Shop" (studio), wherein they would create on-demand content on a freelance basis to be supplied to any publisher to whom they could successfully pitch ideas, or could successfully execute ideas presented to them. These young men were Jerry Iger and Will Eisner. The idea was to always have jobs coming in, produce in large volumes, and keep overhead low.
It worked.
Within a short amount of time, and with the popularity of the comic book on the rise, they soon had, in effect, a factory which was supplying steady product to comic book publishers such as Fox Features, Quality Comics, Fiction House and Timely Comics. But almost as important was the talent that got their first big-breaks working at the Shop; among them were Bob Kane, who would soon strike it rich with his creation Batman, Jack Kirby, an almost unrivaled influencer and legend that shaped much of what the industry would become, Lou Fine, a highly regarded master of illustration, young upstart Wallace Wood, master of light and shadow, Mort Meskin, one of the most respected craftsmen in comic book history who ended up working for damned-near every publisher out there.
And, perhaps most notably, Will Eisner himself, who would split with Iger and leave the company he co-founded when his creation, The Spirit, would become a very popular syndicated strip in 1939/1940. Will was no slouch as an artist and writer, too! His skillful brushwork is still imitated today…
Others came and went through the studio, now simply known (at least within the industry) as The Iger Shop, one of whom concerns us today - Matt Baker. A very clean-lined stylist, skilled architect as a storyteller, and, above all, master of rendering the female form, for which he is mostly remembered today.
Baker, one of the only African-American comic book artists to achieve mainstream success, started working out of the Iger Shop in the mid 1940's. And although it was not his first assignment, it can be argued that his reputation as top-flight "Good Girl" artist was cemented through his work on Seven Seas Comics.
When Seven Seas Comics hit the stands in April of 1946, The title was originally conceived as "manly-man" comic, with emphasis on tales of rough and salty sea-dogs confronting nature, the lives of men at sea, and sometimes contained stories of mariner mythology and legends. However, buried as a co-feature in the back of the book was a character called South Sea Girl. skillfully drawn by Matt Baker. She was a sarong-wearing beauty named Alani, who assisted various adventurers in combating hostile natives, and greedy treasure hunters, etc.
By this time, the Iger Shop was operating under the name The S.M. Iger Studio, and had established their own in-house publishing branch known as Universal Phoenix Features Syndicate; this was the mantle under which Seven Seas Comics was issued. At this time in the company, one of the Managing Editors was a Woman named Ruth Roche. Ruth was also a writer, and would go on to collaborate closely with Matt Baker on his most known feature, Phantom Lady.
Bringing it back around, Ms. Roche took over as editor of Seven Seas Comics and immediately realized the potential of Baker's South Sea Girl as being a commodity which would sell more copies of the book. So, beginning with issue #3, the overtly sexy South Sea Girl moved to the head of the class, taking over every subsequent cover and become the lead story in the book.
The title would only last until issue # 6, which came out in mid 1947. But over the years has gained in reputation based on the collectability of Matt Baker's art. This is now a legendary example of early "Good Girl" art, and issues are demanding a hefty sum!
Check out Baker's masterful cover-art, and follow the links to see what issues are currently on the collectors market.
Read More
Looking to sell your comic books?
Browse our selection of key issues from Seven Seas Comics below to get an instant estimate of their value.
We have been buying and selling for 20 years and have tons of experience working with sellers just like you!