Disclaimer:
When you click on link title "Check Live eBay Prices Here" on this site and make a purchase, this can result in this site earning a commission. Affiliate programs and affiliations include the eBay Partner Network. Check our Privacy Policy for more information.
Sgt. Fury and His Howling Commandos
Marvel // May 1963 - July 1974
Issue count: 120
The WWII exploits of Nick Fury (and his eclectic band of battlin' brothers) long before S.H.I.E.L.D. ! Perhaps the most entertaining of all war books, all the early issues are considered very desirable, including an early revival of CAPT. AMERICA in #13!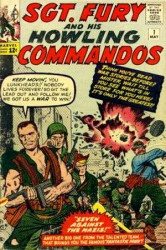 Sgt. Fury and The Howling Commandos was Marvel's premiere war title. This is because it had much more to offer than other WWII books; it didn't take itself too seriously, while not diminishing the horrors and moral dilemmas of combat. What set it apart from most of the other comic companies titles in a similar vein was the diversity and interactions of the characters - Corporal Dum Dum Dugan, Rebel Ralston, Dino Manelli, Izzy Cohen, Gabe Jones, Jonathan Juniper (early), Percival Pinkerton, Jacques "Frenchie" Dernier, Capt. "Happy" Sam Sawyer - and frequent nemesis Sgt. Bull McGivney, and arch enemy Baron Von Strucker.
The "howlers" were perhaps caricatures, but they were also realistic personalities at the same time, with frequent in-fighting and having beefs and disagreements with one another - but under the unflinching leadership of Nick Fury, always came together and had each-other's backs; you felt as though they really did love their "brothers in arms."
Additionally, the writing was not heavy handed or didactic, as many war books can be - we already knew who the enemy was, and how horrible they could be, so let's dispense with the moralizing and get the job done!
Consistently entertaining, Stan Lee wrote the first few years of issues himself, with Roy Thomas and Gary Friedrich eventually taking over. Jack Kirby drew the first 7 issues (returning for the collectible issue #13 - a Capt. America crossover), otherwise the duties were handed over to Dick Ayers (in what may be his signature book) for many years. John and Marie Severin contributed heavily to the later issues.
In the early 70's the book went to a strange format of having every other issue being a reprint of earlier issues, alternating with new stories every other issue. Eventually the book stopped having new stories altogether, and then did an about face around issue #100, starting brand new stories again until the end of the run in 1974.
People must have missed Sgt. Fury, because it was back, strictly as a reissue book of past glories, within a matter of months, and it continued as such, under the mantle of Blazing Battle Action, until 1981!
Read More
Looking to sell your comic books?
Browse our selection of key issues from Sgt. Fury and His Howling Commandos below to get an instant estimate of their value.
We have been buying and selling for 20 years and have tons of experience working with sellers just like you!