Disclaimer:
When you click on link title "Check Live eBay Prices Here" on this site and make a purchase, this can result in this site earning a commission. Affiliate programs and affiliations include the eBay Partner Network. Check our Privacy Policy for more information.
Sensation Comics
DC Comics // January 1942 - June 1952
Issue count: 109
After being introduced in All-Star #8, DC completed their "holy three" lineup (along with Superman & Batman) by giving WONDER WOMAN a permanent home in Sensation Comics! All issues of this 40's classic fetch high prices on the market!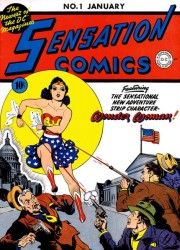 A proto-feminist icon, Wonder Woman burst on the scene in 1942 with her appearance as lead-title in DC anthology book, Sensation Comics! And things would never be the same!
Her immediate popularity made it possible for lesser companies to be able to introduce their OWN female super heroes ( and there were a lot of them!)
But WW is the most recognizable, becoming almost synonymous with America itself, the title lasted until 1949, running 109 issues - with amazon Diana Prince busting hearts and Nazi Skulls along the way, aided by Major Steve Trevor - whom between the two there was always palpable sexual-tension!
As with most DC popular characters, Wonder Woman was awarded with her own giant quarterly title, Wonder Woman Comics, which contained stories only featuring her...
But Sensation was not your run-of the-mill anthology book, which were usually padded-out with less deireable humor and generic detective stories.
No - Sensation was the permanent home of highly-regarded heroes WILDCAT, MR.TERRIFIC (until issue #63), and later Sargon The Sorcerer, along with some Superboy stories!
The title morphed into a horror comic, but only with the last few issues.
Wonder woman was such a strong hero, that she endured the lean 50's, only to go on to achieive greater fame in the 60's -present!
If you have the 40's issues, do yourself a favor and get them appraised (Quality Comics will be happy to do that for you!)!
Read More
Looking to sell your comic books?
Browse our selection of key issues from Sensation Comics below to get an instant estimate of their value.
We have been buying and selling for 20 years and have tons of experience working with sellers just like you!