Disclaimer:
When you click on link title "Check Live eBay Prices Here" on this site and make a purchase, this can result in this site earning a commission. Affiliate programs and affiliations include the eBay Partner Network. Check our Privacy Policy for more information.
Phantom Lady
Fox // August 1947 - April 1949
Issue count: 11
Fox's PHANTOM LADY was both a superhero book and a "Good Girl" book! Sure, she fought crime, but she did it wearing almost nothing! The industry put the kibosh on these titles around 1949. Phantom Lady is considered the most collectible!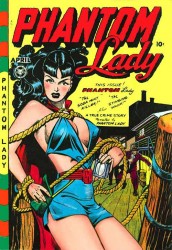 The first phenomenon that was an indication of the loosening of sexual mores in America, which would reach a cultural head in the 1960's, had its roots in World War II with the advent of the "Pin-Up." The idea was that "our fighting men" found comfort in postable photos of either popular starlets dressed provocatively, for the time, or drawings of of a more racier nature depicting partially nude idealized images of flirty, come-hither-type of beauties; there was not a lot of contact with actual women in the barracks, ships and camps of our fighting forces…
After the war, the spirit of pin-up culture endured and eventually infiltrated other mediums; for the first time since the 30's, for example, when the Hayes Code was adopted by the motion picture industry which put restrictions on the depiction of overtly sexually dressed women and suggestive dialogue, was relaxed as Film Noir and neo-realism became the trend in movies. Tight sweaters and double-entendre were abound in the films of the late 40's to late 50's.
Comic Books were no exception. Real Crime and Detective comics often had sexually-aggressive women characters that were not averse to freely lounging around in semi-see-through negligees, or conversely, being bound or tied-up in torn clothing by some bad-guy. The jungle comic asserted wide popularity also, as a spate of "jungle-queen"-types of characters also started appearing from nearly every publisher; these were ready made to feature scantily clad babes wearing not much more than some kind of two-piece bikinis, that were invariably constructed out of wild animal skins.
Although Fox's premiere title for titilation in the late 40's was All-Top Comics, with their jungle characters Rulah and Jo-Jo as highlights, the book also co-featured a costumed superheroine, Phantom Lady, at a time when the initial superhero craze had waned - the difference with Phantom Lady was that she was equal parts crimefighter AND sex-symbol, her costume being analagous to a very cleavage-revealing one-piece bathing suit which would look more in line with something seen on, say, Charlie's Angels in the 1970's!
Needless to say, this was hot-stuff on the comic book stands when the title was first issued in 1947! And to top it all off, the bulk of her stories in Fox's 11 issue run were drawn by perhaps the most famous and best "Good Girl" artist Matt Baker. Baker's clean lines and informed understanding of the female figure are both realistic and idealized at the same time. And he was also a fantastic storyteller, too; he was a talented architect of appealing sequential artwork.
Sure, Phantom Lady was exploitative, but she was also one of the only female characters primarily written by a woman, Ruth Roche, who often wrote under the pseudonym Gregory Page - presumably because her male audience was thought to not be accepting of a woman writing such a provocative character in a male-dominated field (akin to early 20th century Danish novelist Karen Dinesen, who wrote under the name Isak Dinesen...there are countless other examples throughout literary history…).
While just a back-up in All-Top, Phantom Lady's own title was very generous, often containing three PL stories, and not much filler.
Phantom Lady was revived in the mid 50's, with a four issue run by publisher Ajax/Farrell, but it was much more tame, and the artwork was of definitively lesser-quality.
It is the 11 issues produced by Fox, which ran for less than two years, that have that highly masterful artwork of Matt Baker which are the big-money books in the collectors market...
Read More
Looking to sell your comic books?
Browse our selection of key issues from Phantom Lady below to get an instant estimate of their value.
We have been buying and selling for 20 years and have tons of experience working with sellers just like you!