Disclaimer:
When you click on link title "Check Live eBay Prices Here" on this site and make a purchase, this can result in this site earning a commission. Affiliate programs and affiliations include the eBay Partner Network. Check our Privacy Policy for more information.
Pep Comics
Archie // January 1940 - March 1987
Issue count: 136
An anthology series featuring some of the most important comic characters! See what copies that are floating around are selling for by using our online price guide!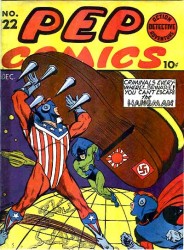 Pep Comics was an anthology series that was first released in 1940. It was published by the Archie Comics predecessor, MLJ Magazines, which discovered the huge success after the Archie comics, and decided to continue with that character in their future releases.

After issue #136, the publisher changed its name, but continued with the comics series until March 1987, with issue #394.

The comic series features some important additions to the comic world: The Shield, who was the first personification of a National Hero, with a costume based on a national flag (pre-dating Captain America by over a year); The Comet, who was the first superhero to die, and Archie Andrews, who eventually became the main focus of the company's extensive range of publications.
Read More
Looking to sell your comic books?
Browse our selection of key issues from Pep Comics below to get an instant estimate of their value.
We have been buying and selling for 20 years and have tons of experience working with sellers just like you!