Pep Comics
Archie // January 1940 - March 1987
Issue count: 136
This is the comic book that introduced Archie Andrews in issue #22! Of course, they had some great heroes, too, like The Shield and The Hangman. They are all desirable and potentially worth money! See the current price range by clicking the title!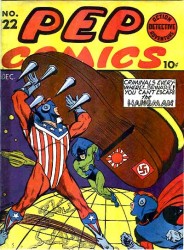 Read More
Looking to sell your comic books?
Browse our selection of key issues from Pep Comics below to get an instant estimate of their value.
We have been buying and selling for 20 years and have tons of experience working with sellers just like you!