Disclaimer:
When you click on link title "Check Live eBay Prices Here" on this site and make a purchase, this can result in this site earning a commission. Affiliate programs and affiliations include the eBay Partner Network. Check our Privacy Policy for more information.
Phantom Stranger
National Per. Publ/DC // September 1952 - July 1953
Issue count: 6
6 Issue Anthology of Horror Tales with the debuting Phantom Stranger!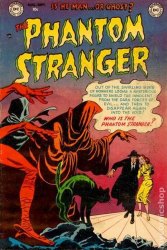 The Phantom Stranger is one of the primary other worldly characters of the DC universe. The charcter debuted in this 6 issue anthology series of horror stories produced by the work of two heavey hitters in DC Comics history, the writing of John Broome and the fantastic art of Carmine Infantino. Each issue has multiple tales of the Stranger doing battle with dark forces of the occult. One thing that separated the character from other heroes of DC was his true name, true nature, and even true origins have never been revealed. The character has appeared in media for decades but no more is known about him personally then appears in these 6 issues that gave birth to hero who walks through the dark side of DC and even its mature reader imprint Vertigo.
Read More
Looking to sell your comic books?
Browse our selection of key issues from Phantom Stranger below to get an instant estimate of their value.
We have been buying and selling for 20 years and have tons of experience working with sellers just like you!