Disclaimer:
When you click on link title "Check Live eBay Prices Here" on this site and make a purchase, this can result in this site earning a commission. Affiliate programs and affiliations include the eBay Partner Network. Check our Privacy Policy for more information.
Marvel Super-Heroes
Marvel // December 1967 - January 1982
Issue count: 94
Key issues contain the 1st appearances of CAPTAIN MARVEL and GUARDIANS OF THE GALAXY! 'Nuff said!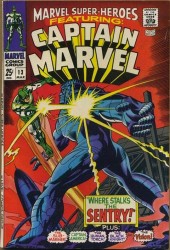 Marvel Super Heroes was one of the first new style titles that, at its inception, would be a vehicle for introducing new characters. However, the book has a very complicated life-arc, perhaps, earlier on, trying to be too many things at once.
Beginning with issue #1, it stuck to it's statement of purpose with introducing an all-new version of Captain Marvel - they were able to name the character this because the licensing had lapsed on the brand name "Captain Marvel," so, being Marvel Comics, they would snatch up the name and "make hay while the sun shines." Issues #12 and #13 (essentially #1 and #2, continuing the numbering from a previous book) featured this Green and White-clad alien superhero - the basic concept being re-imagined later on in the 70's. These issues are highly collectible.
Now, at the same time, this giant-sized title also co-featured (and some would argue more importantly) a number of reprinted stories from The Golden-Age of Timely Comics (Marvel's trade name in the 1940's). For a whole new generation of readers, this was their first look at the legendary, oft-referred to, but previously unseen, early incarnations of Captain America, Sub-Mariner, Human Torch, The Vision, The Destroyer, Mercury, Black Marvel, The Patriot, The Whizzer, Miss America, Marvel Boy, and Joe Maneely's lovely Black Knight stories from the 50's. This was very exciting stuff to see at a time when this material was unavailable!
However, along with those old treasures, issue #15 featured a solo outing for Inhuman Medusa, issue #16 introduced WWI-era superhero The Phantom Eagle (didn't really catch on, though). Issue #17 continued with a solo "New" Black Knight story.
Now, #18 was a biggie - giving the world a first glimpse at THE GUARDIANS OF THE GALAXY! Needless to say, this is a big collectible key issue!
A new Ka-Zar story was on tap for issue #19, followed by a solo Doctor Doom story in #20.
The format changed with issue #21 - effectively turning into a reprint book for Marvel's Silver-Age milestones; X-Men, Avengers, Daredevil, Hulk, Sub-Mariner (60's stories), and Iron Man reprints from the 60's would dominate the book until #56. Gone were the fine Golden-Age reprints, lamentably.
From issue #56 until the end of the run (issue #105, 1982), Marvel Super Heroes would settle into being an Incredible Hulk reprint book, with most stories from the 70's run.
But the Captain Marvel and Guardians issues are the most valuable, fetching respectable prices among collectors and on line.
Check out Quality Comix's online price guide for up to date prices!
Read More
Looking to sell your comic books?
Browse our selection of key issues from Marvel Super-Heroes below to get an instant estimate of their value.
We have been buying and selling for 20 years and have tons of experience working with sellers just like you!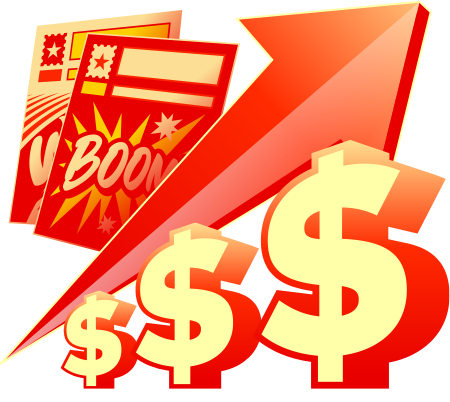 Issue #12
What's Marvel Super-Heroes #12 worth in 2023?
The highest price point for this issue was a sale of $14,500 in 2019 for a top end grade NM/MT 9.8. The mid-to-low grades have shown enormous growth: a VG/FN 5.0 valued at $20 in 2003 is now worth $100. Most remarkable is the VG+ 4.5 grade, jumping from $15 in 2010 to today's price of $175. That's an increase over 1,000%!
Why is this comic book valuable?
The first appearances of Captain Marvel! Plus Una, Yon-Rogg and Zarek. Written by Stan Lee.
Price Guide Report
| GD 2.0 | VG 4.0 | FN 6.0 | VF 8.0 | NM 9.4 | RECORD SALE! |
| --- | --- | --- | --- | --- | --- |
| $25 | $75 | $150 | $300 | $875 | $14,500 |
Issue #13
What's Marvel Super-Heroes #13 worth in 2023?
The top price for this issue was $12,401 in 2018 for a NM 9.4. A single NM/MT 9.8 represents the highest grade on file, selling for only $1,097 back in 2011. The FN 6.0 grade generated more than a 400% increase in value, moving from $150 in 2013 all the way up to today's $650. If you're looking for true over-the-top value, a 5.5 FN- that cost you $10 in 2007 now goes for $1,000. Yes, that's a profit of 10,000%!
Why is this comic book valuable?
The first appearances of Carol Danvers and General Bridges. Writing and art contributions from Jack Kirby.
Price Guide Report
| GD 2.0 | VG 4.0 | FN 6.0 | VF 8.0 | NM 9.4 | RECORD SALE! |
| --- | --- | --- | --- | --- | --- |
| $50 | $250 | $425 | $1,300 | $8,850 | $12,401 |
Issue #18
What's Marvel Super-Heroes #18 worth in 2023?
The top end grade for this issue is represented by four copies at NM/MT 9.8, with a historical high sale of $19,000 in 2014. If you got in on this issue years ago before the movie buzz, you'd be looking at an excellent profit. A FN/VF 7.0 went for $10 in 2004, and now sells for $350. That's an increase of 3,500%! Later in the market tells a different story. Issues purchased around 2012-2013 haven seen modest growth with many fluctuations.
Why is this comic book valuable?
It's the debut of the Guardians of the Galaxy!
Price Guide Report
| GD 2.0 | VG 4.0 | FN 6.0 | VF 8.0 | NM 9.4 | RECORD SALE! |
| --- | --- | --- | --- | --- | --- |
| $100 | $125 | $250 | $400 | $2,850 | $19,000 |