Disclaimer:
When you click on link title "Check Live eBay Prices Here" on this site and make a purchase, this can result in this site earning a commission. Affiliate programs and affiliations include the eBay Partner Network. Check our Privacy Policy for more information.
Master Comics
Fawcett // March 1940 - April 1953
Issue count: 133
Master Comics was an anthology comic featuring adventure and action characters, including super-heroes. It was originally published by Fawcett Publications, and was acquired by DC Comics when DC bought Fawcett's comic book assets in 1991.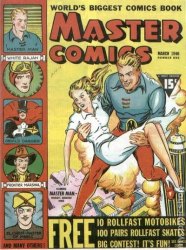 During the Golden Age of Comics Fawcett Publications once offered a real threat to DC Comics in sales. There was peroid when Captain Marvel, now known as the DC Hero Shazam, out did Superman in comic sales. That time however is long past and DC aquired Fawcett decades later. Master Comics with all of its gee whiz Golden Age energy represents Fawcett at its best. Each issue has mulitple stories with Fawcett's heroes and curious characters. The title was originally physically larger than other comics at 10.5 inches by 14 inches. This only lasted for the first 6 issues; with issue 7 it became standard size.
Read More
Looking to sell your comic books?
Browse our selection of key issues from Master Comics below to get an instant estimate of their value.
We have been buying and selling for 20 years and have tons of experience working with sellers just like you!