Disclaimer:
When you click on link title "Check Live eBay Prices Here" on this site and make a purchase, this can result in this site earning a commission. Affiliate programs and affiliations include the eBay Partner Network. Check our Privacy Policy for more information.
Marvel Spotlight
Marvel // November 1971 - April 1977
Issue count: 33
Spotlight offered comicdom the first solo appearances of many key figures in the Marvel Universe; including GHOST RIDER, MOON KNIGHT, SPIDER-WOMAN, and WEREWOLF BY NIGHT. These Bronze age books are getting hot!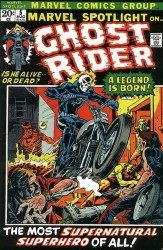 Whereas Marvel had anthology-type books in the 60's (Tales of Suspense, Tales to Astonish, etc.), in which they could introduce and nurture a character over a period of time, they eventually did away with that format.
In the 70's, they put forward a series of titles that would serve the function of "trying out" new characters, usually giving them a few issues to gauge public reaction or give the creative team time to refine a certain concept for which the editorial staff gave the "go-ahead." The so-called "Bronze-Age" was a boom-time for the comic book industry, with a very crowded field of new titles coming and going at a more rapid pace than before. Competition was fierce, and there was less time given to new ideas to "catch on."
Hence we got books that could potentially be a springboard for a character to earn their own title, or could die a rapid death on the racks. Some examples of these kinds of new titles were Marvel Super Heroes, Marvel Premiere, Marvel Feature, and one of the best - Marvel Spotlight.
Spotlight began with a whimper in 1971, first serving up a single issue featuring Red Wolf, a western genre feature which would be given it's own short-lived title soon after (the character would stick around, most notably being re-booted in 2016!)
The series starts to heat up with issues #2 through #4, with the introduction of Werewolf By Night, which became a premier horror/monster book for Marvel in the 70's, enjoying a successful 5 year run in his own book!
Next up began a seven issue run of probably the most well-recognized triumph of Marvel Spotlight - GHOST RIDER! Taking his name from a defunct western character, this new version was a contemporary take, with Johnny Blaze, in a faustian deal with the devil, becomes a blazing-skulled, motorcycle-riding do-gooder, which walked the line between both the superhero and the horror genres! Ghost Rider would be a presence in the Marvel Universe up to present day, both through his long running own title (10 years), and, later, a movie adaptation!
The Ghost Rider book, in it's 2nd issue, would introduce Spotlight's next big hit - Damion Hellstrom : THE SON OF SATAN! Hellstrom would be featured in the next 13 issues of Spotlight (#12 through #24). Hellstrom would enjoy an 8 issue run in his own book, and a revival mini-series in 2006.
# 25 gave us a single issue adaptation of The Seventh Voyage of Sinbad. Another one-off followed with The Scarecrow, an attempt at creating another Monster/Hero...
Not really having a solo vehicle at the time, the next issue (#27), was given over to Sub-Mariner, if only to keep his presence up.
In the tradition of former Spotlight alumni introducing major characters that would go on to have dedicated solo outings in Spotlight, Werewolf By Night #32 introduced MOON KNIGHT, who would enjoy the starring roll in the next two issues of Spotlight (#28 & #29 - in 1976). Moon Knight was a slow-burner, kicking around in stories here and there in different titles, and only earning his own acclaimed title in 1980. There was no looking back, as the character would enjoy success in several of his own titles up until present. Rumors abound about Moon Knight being tapped for his own animated series...
The next issue was given over to a Thor offshoot - The Warriors Three.
Another hero without a home (at the time), was Nick Fury - they threw him a bone for issue #31.
Another hero that quickly gained her own title was Spider-Woman, introduced in #32. She would remain popular in her own title for 50 issues which ran until 1983. The character has re-emerged in several titles up until present day.
In it's last issue (#33) before going on hiatus, Marvel Spotlight would give a go to a Deathlok solo outing. This was in the spring of 1977.
In 1979, a new Marvel Spotlight would emerge, with outings featuring Captain Marvel, Dragon Lord, Star Lord, and Captain Universe.
However, it is the first series that is most sought out by collectors, with stand-out key issues being the first appearances of Werewolf By Night, Ghost Rider, Moon Knight, and Spider-Woman - these are also the most valuable on the collector's market.
Read More
Looking to sell your comic books?
Browse our selection of key issues from Marvel Spotlight below to get an instant estimate of their value.
We have been buying and selling for 20 years and have tons of experience working with sellers just like you!