Disclaimer:
When you click on link title "Check Live eBay Prices Here" on this site and make a purchase, this can result in this site earning a commission. Affiliate programs and affiliations include the eBay Partner Network. Check our Privacy Policy for more information.
Looney Tunes and Merrie Melodies
Dell // 1941 - 1962
Issue count: 107
Classic Looney Tunes Comics!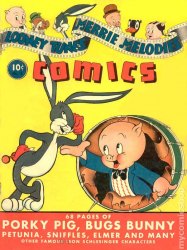 Del Comics published Looney Tunes and Merrie Melodies Comics from1941 to 1955. It was an important historical comic series given that it featured the first comic appearances of major Looney Tunes characters including Bugs Bunny, Daffy Duck, Elmer Fudd, and Porky Pig. It lasted for 165 issues under that name. Then was renamed to simply Looney Tunes (1955-1962) and lasted for another 81 issues. A total of 246 issues under either name. The series is also interesting considering it shows the visual evolution of certain characters. While the faces of these characters are classic images burned into the minds of millions of people as time passed there were slight visual changes to how they appear.
Read More
Looking to sell your comic books?
Browse our selection of key issues from Looney Tunes and Merrie Melodies below to get an instant estimate of their value.
We have been buying and selling for 20 years and have tons of experience working with sellers just like you!