Disclaimer:
When you click on link title "Check Live eBay Prices Here" on this site and make a purchase, this can result in this site earning a commission. Affiliate programs and affiliations include the eBay Partner Network. Check our Privacy Policy for more information.
Leading Comics
DC Comics // Winter 1941-1942 - February-March 1950
Issue count: 44
1941 saw DC's Leading Comics hit the shelves. A perhaps underrated hero book which was home to SEVEN SOLDIERS OF VICTORY, with issue #15 it abruptly became strictly a "funny animal" book! All collectible, but the 1st 14 issues are the real money earners!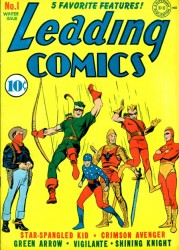 DC's Leading Comics hit the stands in 1941 with high hopes of repeating the success of All-Star's Justice League of America.It didn't.
Perhaps the fact that it starred mostly "B-List"(but still great) characters, The Vigilante, Star-Spangled Kid, The Green Arrow and Speedy, The Crimson Avenger and The Shining Knight contributed to Leading Comics inability to catch-on with the publc; the book didn't have the "heavy-hitters" of DCs roster.
However, time has been kind to the team dubbed The Seven Soldiers of Victory.
Certainly, what the book lacked in hero-appeal, it was compensated for by the fact that several of the early issues have the groundbeaking artwork of the legendary master Mort Meskin, who provided the prologue and epilogue chapters, as well as the chapters featuring (debatably) his signature hero, The Vigilante.
Alas, with sales lacking, the title was abruply changed over to a stricly "funny animal" humor book beginning with issue#15...*sigh*
The first 14 issues, hovever, are scarce, and are now considered valuable treasures to collectors that can find them!
Read More
Looking to sell your comic books?
Browse our selection of key issues from Leading Comics below to get an instant estimate of their value.
We have been buying and selling for 20 years and have tons of experience working with sellers just like you!