Disclaimer:
When you click on link title "Check Live eBay Prices Here" on this site and make a purchase, this can result in this site earning a commission. Affiliate programs and affiliations include the eBay Partner Network. Check our Privacy Policy for more information.
Fighting Yank
Pines // September 1942 - August 1949
Issue count: 29
After America's entrance into WWII, a whole bunch of patriotic heroes hit the stands - including THE FIGHTING YANK! Attractive covers by Alex Schomburg were a main draw for this series, which continue to fetch high prices! See examples- click the link!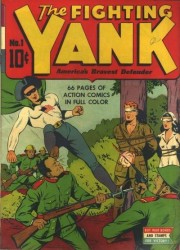 History shows that it was obvious that America would enter World War II. Unless you happened to be Charles Lindbergh or Joseph Kennedy, the collective conscience in the U.S. would not allow Hitler to storm through Europe, occupying and claiming major cities and countries in the name of Germany. Not to mention the shenanigans that the Japanese were up to in China and the Pacific…

Comic book publishers, and many of the creative people doing the writing and drawing at the dawn of the superhero boom known as The Golden Age of Comics would feel compelled to stand up and start expressing anti-Nazi sentiment. Tens of "patriotic" heroes would spring up in the comics AFTER the Japanese invasion on Pearl Harbor, but there were a handful of flag-waving long-underwear characters that were ahead of the trend, and started appearing before America actually joined the allied effort.

MLJ's The Shield debuted in early 1940, followed by Minute Man in Feb. 1941, and then the most famous of the lot, Timely Comics' Captain America in March 1941, and Standard/Nedor/Better's formidable Fighting Yank appeared only a few months before that fateful day in Hawaii in December of '41…

Fighting Yank made his debut in Startling Comics #10 (cover date Sept. 1941), and had an interesting lineage reflected in his origin story that distinguished him from the others :

Bruce Carter was a courier in the Revolutionary war, and under the orders of Gen. George Washington was given a perilous task of having to deliver an important message through enemy lines. Bruce was killed trying to complete this mission. But his spirit remained roaming the Earthly realm, and 150 years later inhabits the soul of his ancestor, Bruce Carter III, who immediately becomes The Fighting Yank, enemy to the Axis of Evil threatening the world.

His signature costume, featuring a Revolutionary War Era tri cornered hat, was a nice nod to his ancestry, and added a dashing flair missing from his contemporaries.

Fighting Yank started out strong. So strong that Pines (parent publisher for Standard/ Nedor/Better) saw fit to not only feature the character as a regular in two of their anthology-type titles, Startling Comics (issues #10 - #49), America's Best Comics (issues #9 - #25), and Yanks' own title, which ran for 29 issues from Sept. of 42 - Aug. '49, and featured up to three Fighting Yank stories per bi-monthly issue.

Pines also offered a real treat to the reader in that they gave regular work to the cover master Alex Schomburg - whose iconically detailed war images graced almost all of their titles.

Among Yanks' regular story artists include Jon Blummer, Elmer Wexler, Jack Binder, Ed Moritz, Ken Battlefield, and as the decade wore down in an attempt to keep Fighting Yank and their other more popular character, The Black Terror, on the shelves - the expert, visually stunning artist team of Mort Meskin and Jerry Robinson were brought in to breath new life into both strips. This unfortunately did not work, as the tide which had turned against the superhero market was just too powerful.

A shame. The Meskin/Robinson stories of both characters represent an apex in design and creativity of the Golden Age. Their issues, plus the added attraction of the Schomburg covers make Fighting Yank a steadily rising book in the collectors market.
Read More
Looking to sell your comic books?
Browse our selection of key issues from Fighting Yank below to get an instant estimate of their value.
We have been buying and selling for 20 years and have tons of experience working with sellers just like you!