Disclaimer:
When you click on link title "Check Live eBay Prices Here" on this site and make a purchase, this can result in this site earning a commission. Affiliate programs and affiliations include the eBay Partner Network. Check our Privacy Policy for more information.
Flash
DC Comics // February-March 1959 - October 1985
Issue count: 246
DC decided to re-vamp THE FLASH in the 60's in a new incarnation from his 1940's counterpart. It became a consistently best-selling title for them for over 25 years! If you have early or key issues, there is some value there!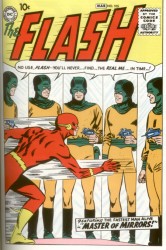 After giving the NEW, re-vamped Flash a trial run in Showcase, and being a member of popular Justice League of America, DC gave him his own book in 1959.
The new incarnation, based on DC's 1940's character, was an out of the gate success, featuring a vast array of colorful villians and supporting cast, and strong artwork by Carmine Infantino - the definitive Flash artist, who had also drawn the earlier version of the Flash in the late 40's!
The title also featured and introduced Kid Flash, and, later, a co-feature with The Elogated Man - but it's those late 50's- early 60's issues that have been snatched-up and trading hands among collectors for years!
Read More
Looking to sell your comic books?
Browse our selection of key issues from Flash below to get an instant estimate of their value.
We have been buying and selling for 20 years and have tons of experience working with sellers just like you!