Disclaimer:
When you click on link title "Check Live eBay Prices Here" on this site and make a purchase, this can result in this site earning a commission. Affiliate programs and affiliations include the eBay Partner Network. Check our Privacy Policy for more information.
Fight Comics
Fiction House // January 1940 - January 1954
Issue count: 86
A combat-themed anthology from Fiction House featuring early work from many future comics legends! See what copies are selling for by using our online price guide!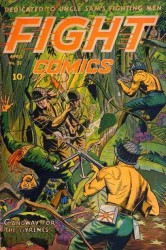 Fiction House was an American publisher of pulp magazines and comic books that existed from the 1920s to the 1950s. It was founded by John "Jack" Kelly and John W. Glenister. By the late 1930s, the publisher was Thurman T. Scott. Its comics division was best known for its pinup-style good girl art, as epitomized by the company's most popular character, Sheena, Queen of the Jungle.
By the 1930s, the company had expanded into detective mysteries. After a hiatus caused by the Great Depression, they resumed publishing until the 1950's with comics such as Fight Comics, Frontier Stories, Lariat, etc.
Fight Comics ran for 84 issues before finally being cancelled in January 1954.
Read More
Looking to sell your comic books?
Browse our selection of key issues from Fight Comics below to get an instant estimate of their value.
We have been buying and selling for 20 years and have tons of experience working with sellers just like you!